Small Water Bongs Worth Toking To
Mini and small bongs are far from limited by their itty bitty size, and if anything that's the draw. Their dimensions make them highly portable so they can go wherever you go. Whether that's down the street to your best friend's or out in the wild where the mushrooms grow, a small bong is the way to go. Let's say "cheers" in the language of stoner by ripping a good ol' toke to these 25 small bongs worth taking with on the journey.
Photo: Unsplash
Luminous Small Bong
This iridescent bong takes a classic beaker shape base and gives it some flavor with it's gorgeous color changing effect. Watch it glitter and shine the whole spectrum of light as the sun shines through it and your puffy clouds of smoke. It also includes an ice pinch and a diffused downstem percolator for smooth ice-cold hits.
Height: 6"
Made of thick glass
14mm female joint
Mini Snake Bong
This adorable snake bong measures just 6.5 inches and comes in clear or an iridescent finish.
Height: 6.5"
Made of thick glass
14mm female joint
Many Eyed Monster Bong
This spooky monster bong with its many glowing eyes and sharp teeth is as scary as it is cute, measuring just 7 inches tall.
Height: 7"
Made of borosilicate glass
14mm female joint
Glows in the dark
Mini Heart Bong
It's about time you steal her heart. Sweep her off her feet with the gorgeous heart bong! This small pink bong comes with a slitted diffused downstem for smooth, flavorful hits that will leave you profoundly lifted and maybe make your heart flutter a bit too.
Height: 9"
Made of glass
14mm male bowl
Diffused downstem
Mini Heady Bong with Implosion Marble
This pink mini bong can be used as a rig or bong, all you need to do is swap out the banger for the bowl and you're golden. It features a beautiful heady glass implosion marble that makes it a truly unique piece.
Height: 7"
Made of borosilicate glass
Includes quartz banger
Heady glass marble
Mini Rainbow Cloud Bong
You'll be up in the clouds in no time with this cute mini bong which features a cloud showerhead percolator and puffy bong bowl.
Itty Bitty Small Beaker Bong
If you're looking for a super cheap mini bong that won't break the bank, this itty bitty piece may be just what you need. Sometimes going classic is your best bet and this small beaker bong is just that. With a diffused downstem you're pretty much good to go.
Height: 5"
Made of durable quartz
14mm female joint
Mini Octopus Bong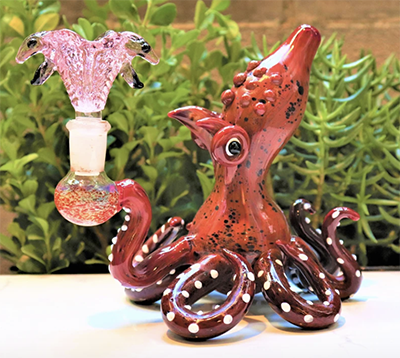 This awesome octopus water bong will make you take deep under the sea rips that will have you floating to the surface like a jellyfish. Handblown and hand painted, this piece is stunning in its own right. Standing just over 7 inches tall, it's also perfect for passing amongst only the most trusted members of your stoner family.
Height: 7"
Includes glass bowl
Aurora Psychedelic Small Bong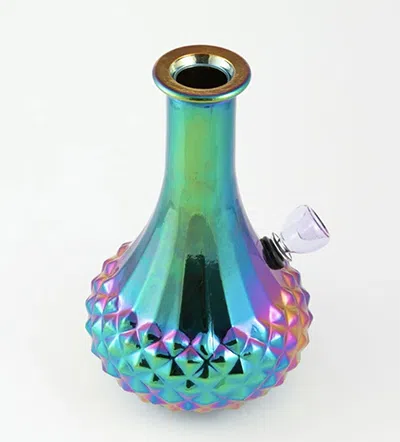 Mom will never know what hit her with this small bong. The iridescent bong almost looks more like a vase and can become a secretly stoney centerpiece for when the relatives are over. The ones in the know will compliment you for your good taste and boldness alike.
Height: 8"
Includes glass bowl
Mini Globe bong
Ready to have the world at your fingertips? Well, with this globe percolator bong, you can.
Height: 6"
Made of borosilicate glass
14mm female joint
Ceramic Rose Bong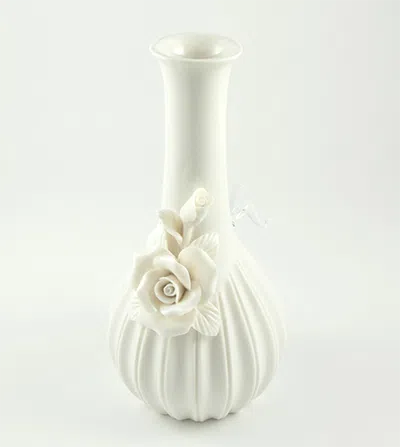 This small glass bong is something grandma might steal from your pad the next time she rolls over. The vintage Victorian flowers got a modern facelift with the soft, smooth curves of this voluptuous bong. Additionally, the smoking bowl has an elegant handle accent that makes it easy to lift without a worry about getting burned or sticky fingers.
Height: 8"
Includes glass bowl
Wide mouthpiece
Pink Matrix Percolator Bong
Another cute pink bong, this piece features a matrix percolator for endlessly smooth hits.
Made of borosilicate glass
14mm female joint
Matrix percolator
Mini Mushroom Bong
If you're a mushroom lover, this piece will absolutely elevate the smoke sesh. Although it comes with a dome nail it can be used as a bong, as long as you've got a bowl and adapter at the ready. And measuring just 5 inches this mini mushroom rig is super cute too.
Height: 5"
Made of borosilicate glass
Includes 14mm female dome nail
Heady glass mushroom marble
Rosette Cute Small Bong Vase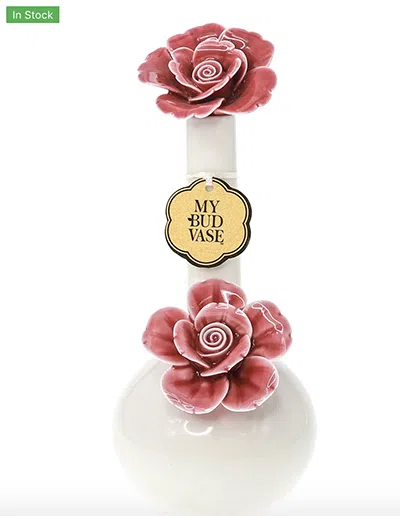 Similar in style to the previous vase, this rose bong simultaneously blends in and stands out. The bud vase has two gorgeous pink flower accents that also serve a purpose. One is a toker poker while the other acts as a bowl by removing the innermost petals.
Height: 6.5"
45 degree female joint
Handcrafted ceramic
Diffused downstem
2.5" bubble bowl
Stoneware toker poker
Flat bottom base
MAV Vintage Bulb Bong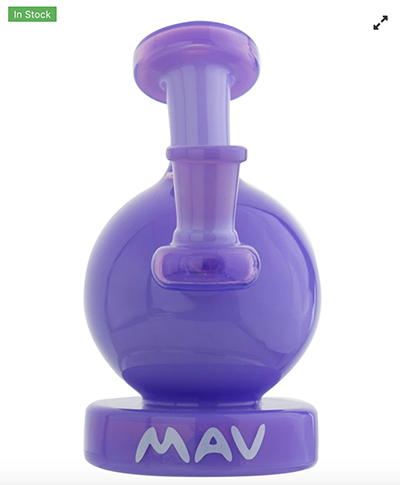 The MAV is a mini retro bong reminiscent of vintage bulbs that will surely light you up. The angled neck helps reduce splashback and the 2-hole percs allow for enhanced diffusion that go beyond the constraints of it's itty bitty dimensions. Most importantly, the design and strength make it extremely portable for taking on your next adventure or misadventure.
Height: 4"
Made of borosilicate glass
Official MAV bong
90 degree joint
14mm female joint
2-hold percs
Duals as dab rig
Small Rasta Bong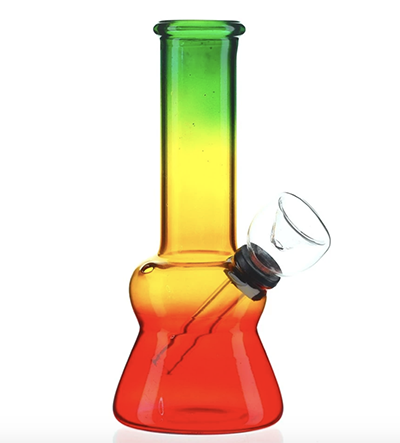 This rasta bong fits perfectly in the palm of your hand and immediately sets the vibes right. Lightweight, great for passing around and quick highs, she's adorable and highly functional.
Height: 5"
Fixed downstem w/ carb
Easy to clean
Skull Mini Bong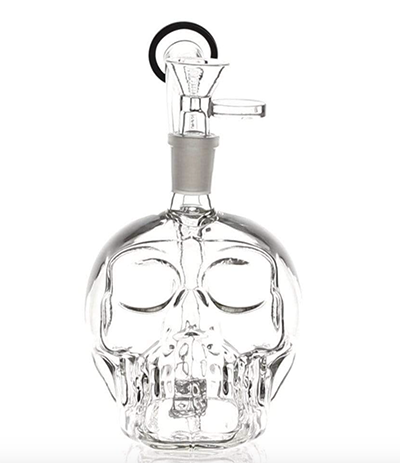 If you're looking for a conversation piece this glass skull bong is just what you need. Small but mighty, this water bong comes with a reinforced matrix percolator to enhance diffusion for the smoothest of tokes.
Height: 7"
14mm female joint
Includes 14mm male bowl
Easy to clean
Tie-dye Silicone Bong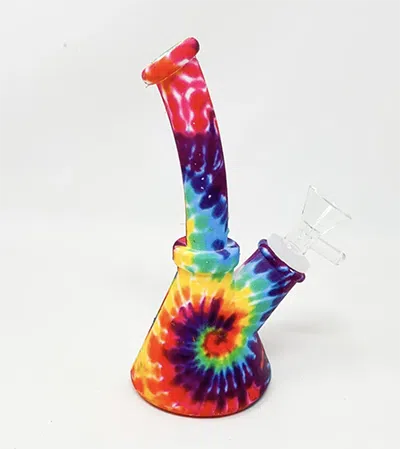 If you're on the move we all know that glass can weigh you down. If you're looking for a worry-free smoke sesh that gets you lifted to the clouds, silicone is the way to go. The tie-dye pattern will take you back to the 70s, just play some Grateful Dead, find a spot in the forest and get lost in thought. The angled neck reduces splashback so you don't dirty bong water flying up at you in the middle of a revelation.
Height: 6.5"
Removable downstem
Angled neck reduces splashback
Made in LA
Twisted Sisters Small Bong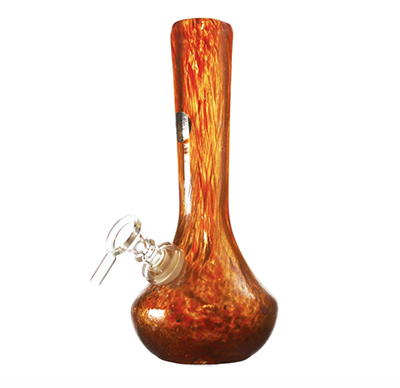 This glass beaker bong has a gorgeous deep red stain that is slightly sheer which looks even better as you pull smoke through the base to your lips. Although just over 6 inches, she includes a diffused downstem which filters smoke for deliciously smooth tokes.
Height: 6"
14mm female joint
Diffused downstem
Crystal Glass Small Bong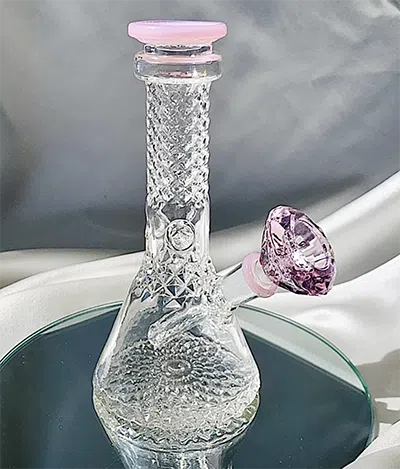 Grandpa always liked whisky on the rocks so he might come around to the idea if you say you like your tokes on the rocks too. This stunning thick glass bong with pink accents, wide mouthpiece, diamond shaped glass bowl and an ice pinch is ready for smooth tokes that will make you feel all warm and toasty, just like grandpa with whisky in hand.
Height: 7"
Made of glass
Includes diamond bowl
Ablauren Allora Drip Small Bong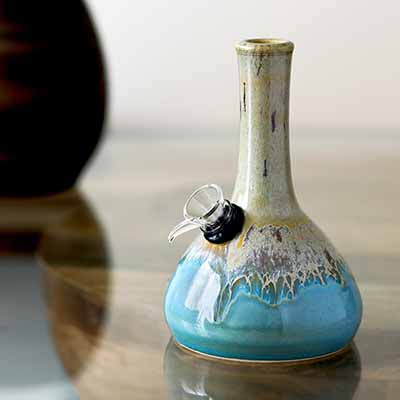 Now if you've been saving for a special occasion, this hand thrown ceramic bong with its gorgeous glaze and speckled texture was crafted to make an impression. Since each is made by hand, you'll get a truly unique piece. It's lovely wide base will fill up with smoke so expect powerful hits worth sharing in good company. And if you love this ceramic style coupled with it's small size, you will fall head over toke for these cool wake and bake mugs!
Height: 5.5"
Made of stoneware
Hand wash recommended
Small Pink Bong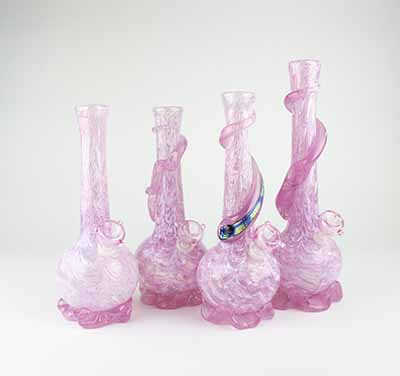 While this bong may not qualify as a true small bong at 11 inches, it's unusual petal base gives it an extra inch in height and it's just too cute not to make the cut. The soft pastel pink and twisted swirl pattern of the spun glass gives it a stunning texture that's even more beautiful as smoke passes through up towards your lips.
Height: 11"
Made of glass
14mm glass bowl
Iridescent Rainbow Bong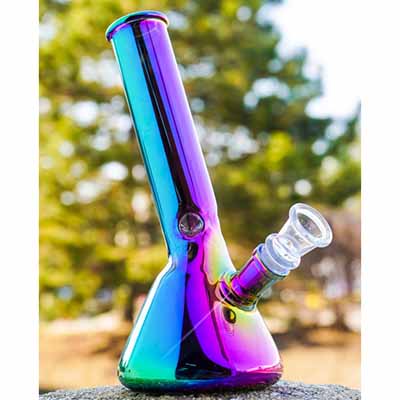 This awesome small bong is a beaut. The gorgeous highly reflective iridescent film produces a trippy effect in the light and will definitely set the vibes right at the next smoke sesh. It's titled neck also helps to reduce splashback and more comfortably toke in a more relaxed position
Height: 8"
Tilted neck acts as splashguard
14mm glass bowl
Green Matrix Percolator Bong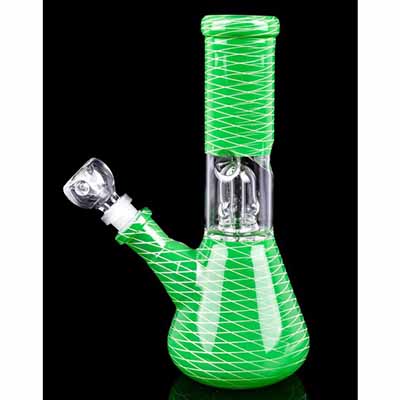 This small percolator bong is a green machine! The netted matrix design against the clear glass showcases the dome percolator with three holes much like a viewing window into your filtered hits. The ice pinch allows for 2-3 ice cubes which further cools down your hits and enhances the flavor profile.
Height: 8"
14mm female joint
Ice pinch
Dome percolator
Small Mushroom Bong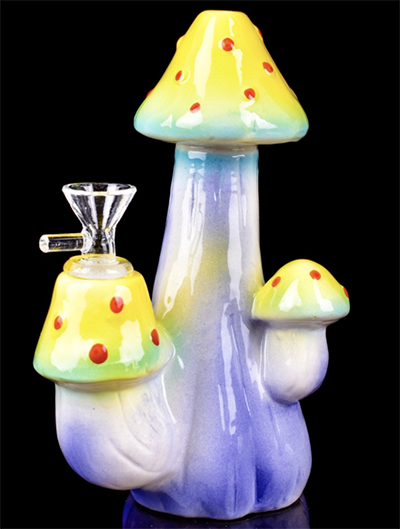 This mushroom bong will get you fantastically faded. While it doesn't come with any fancy features like any percs or an ice pinch, it's a unique design will make you feel like you've just gone down the rabbit hole.
Novelty Penis Bong (not that small)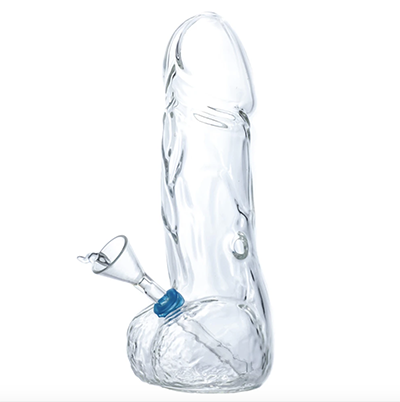 There's nothing quite like smoking out of the tip of a big glass penis bong. Not to get too graphic but the lifelike veins, wrinkled balls and realistic head will make it hard not to laugh as you're toking, but that's the point. It's the perfect party pleaser that will hopefully leave you satisfied at 8 inches long. You'll be sure to turn some heads at the very least. Just enjoy watching the smoke travel up from the flat bottom base through it's thick shaft to your lips at the next, rather kinky smoke session.
Thick Glass Beaker Bong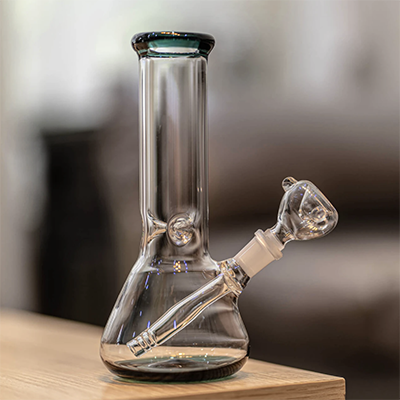 This glass mini beaker bong is as thick as they come. Featuring an ice pinch and deep bubble bowl, you can look forward to smooth tokes for hours. The clear base makes it a cinch to clean and dark green accents on the mouthpiece and bottom is a nod to the green goddess herself.
Height: 8"
Made of borosilicate glass
14mm bubble bowl
Ice catcher
Fixed downstem
Glow-in-the-dark Silicone Bong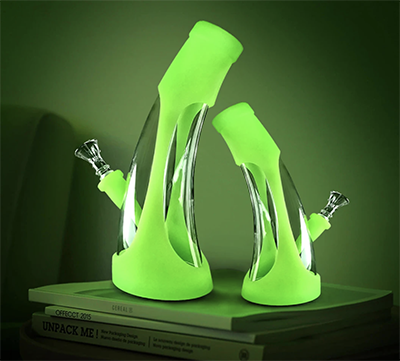 This horn shaped small glow-in-the-dark bong is an ergonomic masterpiece with its gently bent shape curving towards you. It glows softly at night, making it perfect for late night seshes or even outings in front of the campfire. It's so compact and travel friendly you can just stick it in your backpack for your next adventure.
Height: 5.7"
Glow-in-the-dark
Made of silicone and glass
Small Glass Recycler Bong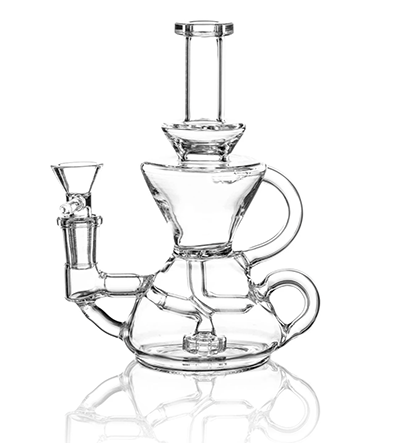 What's not to love? This glass recycler bong is tiny but mighty and has filtration power similar to its larger counterparts with its showerhead percolator and recycling action that cools hits through its many arms and chambers.
Height: "7
Made of borosilicate glass
14mm female joint
Showerhead percolator
Duals as dab rig
Jay and Silent Bob Bong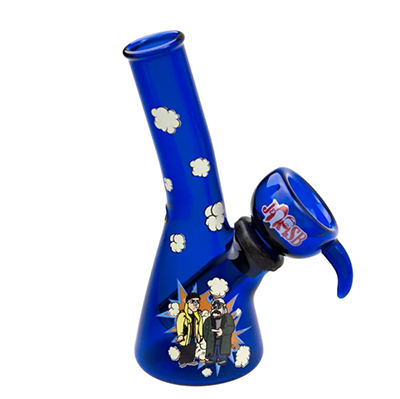 This Jay and Silent Bong Water Bong is about as mini as they come at just 4.3 inches tall (that is if you couldn't tell by how massive its smoking bowl is). The glass bowl has a handle so you don't get your fingers stuck in that sticky icky. It's also an ode to two massive characters in the world of all things stoner.
Height: "4.3
Beaker base
Carb hole
Smoking bowl with handle
Mini Color Changing Bong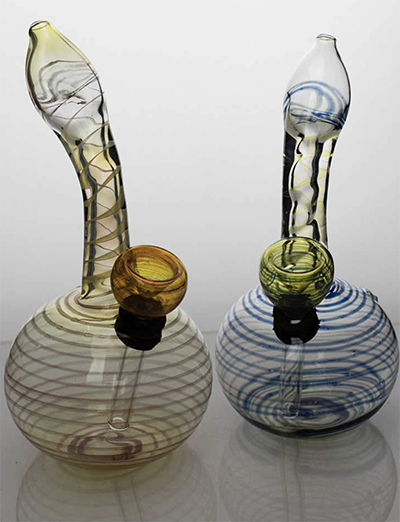 This color changing bong is activated by shifts in temperature so as this baby heats up with smoke you'll see it shift from blue to orange, to an array of trippy tones. As she gets shaded, you'll get faded, so to speak (feel free to cringe). No matter, you're looking for a steal, this cheap mini bong is amazing quality for the cost.
Height: 6"
Color changing
Includes carb hole
Scooby Doo Bong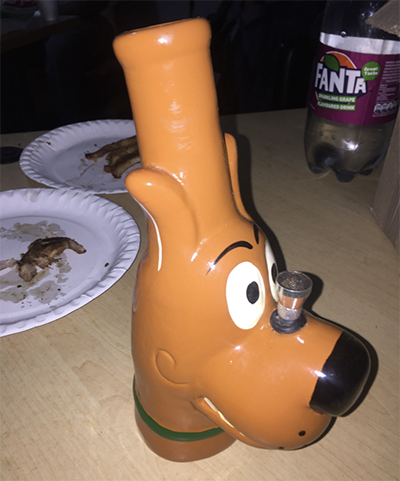 Now she might not be the most gorgeous or sophisticated but this Scooby Doo Bong is bound to pull some heartstrings. We love how the bowl just sits atop Scooby's nose. He's about to go cross-eyed just eyeballing it!
Redefining Small Bongs
"Small" has historically gotten a bad wrap. Especially, if you're talking about the first thing that pops into your mind but surely the small penis bong featured on this list will prove otherwise at a healthy 7 inches! Whether you're looking for familiar novelty, beauty or function, we hope one these 32 awesome bongs gave you a taste of what you're missing!