There's more to music than what meets the eye. Though, in the case of these trippy music videos you must see high, what meets your eyes is exactly what makes the music soar. Pack in a fresh bowl and let it rip. Because you're about to experience a high unlike any other.
Photo: Pexels
The Weeknd, Pari Dukovic – After Hours (With Variety) (2020)
In order to ease into the perfect state of trippy, it helps to begin with something gentle and smooth. It helps. But it isn't entirely necessary, certainly not all the time.
The Weeknd is known for taking viewers on a wild trip. This is especially true with his more recent body of work, particularly everything that came off the "After Hours" album. When giving interviews for the release, he opted to forego the conventional interview format, instead delivering a Paru Dukovic-directed psychedelic piece set to the music from the album. The visuals blend seamlessly into the music videos of the tracks released from "After Hours." All in all, this is a jarring experience and one hell of a trip.
Blockhead – The Scene (2011)
Where Weeknd uses blinding lights and prosthetics to craft his trippy visuals, this stunner uses fluid animation and the refrain "We call that a joint" to tell one of the trippiest, most mind-melting tales ever.
HEO – Luna (2014)
The idea of watching people melt into near-formless shapes is creepy enough. But those forms stretching out, trying to hold onto one another, just takes the creep factor to the next level.
Yet, these visuals manage to be quite stirring. In addition to being trippy as hell, they perfectly represent the song's themes of grief, depression, and finding a light in the dark.
HEO's electro-rock sound is trippy all on its own, and the visuals simply add to the feeling of your mind melting into the emotions it evokes.
Nine Inch Nails – Closer (1994)
If tripping on horror is your scene, then one of the most controversial, suggestive, and explicit videos of the '90s is definitely going to be up your alley.
When it dropped, Closer was misinterpreted by many to be a song about lust. The video received similar treatment. In reality, both point to themes of self-hatred and obsession, with the latter being an homage to various visionaries who helped shape modern visual art.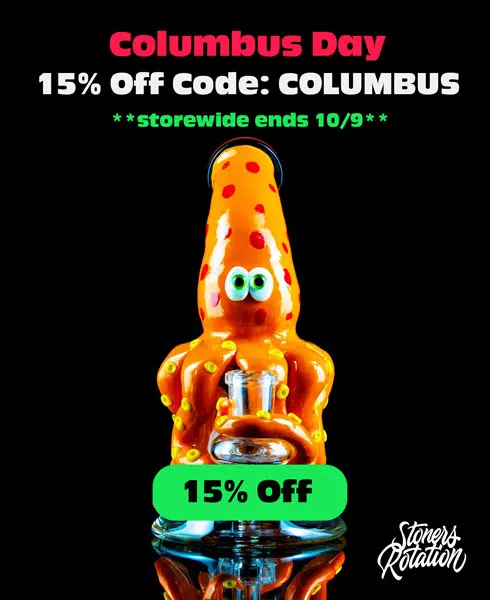 Several videos, from 30 Seconds to Mars' "Hurricane" to Beyoncé's "Haunted" have emulated similar concepts, both visually and lyrically. Yet it's hard to match up to the impact of the groundbreaking and controversial work of art that was Closer. If there's one stalwart among trippy music videos you must see high, it's this one.
Collarbones – The Ghostship (2011)
The duo that makes up Collarbones has been described as everything from indie and alternative to electronica and beyond. What does stand out is their expert use of manipulated and glitchy sounds to achieve a familiar yet distant sound. And Ghostship is certainly one of the best expressions of their artistry.
The music video takes it a step further. The song's themes of nostalgia are perfectly wrapped up in black tape that resembles unfurling film, bodies writhing under.
Bonobo – Kerala (2016)
As far as glitches go, director Bison has all but perfected the craft on Bonobo's Kerala. Starring Gemma Arterton, the video follows a lone woman who appears to be the only one capable of seeing increasingly strange phenomena occurring all around. The video features a looping motif, one that ticks with each beat, revealing a fraction more with each loop, culminating in an unsettling creepy finale.
Jinx Ft. Yukari – Trip (2014)
A blend of '80s electropop and themes of nostalgia and yearning, Chillwave is a genre that was made built for the perfect high. Yukari's vocals blend beautifully with Jinx's mix, and the trippy visualizer just elevates the experience.
9 Tales About Galastrophy – Sunrise On (Haring Rmx) (2014)
If visualizers are what get you tripping just right, then this one is an absolute must-watch.
Snoop Dogg – Sensual Seduction (2008)
No one knows how to craft the perfect high better than Snoop. So much so, he even has a line of bongs and pipes, each with names he personally handpicked.
But long before he cemented himself as a patron of the stoner cause, he dropped one of the most iconic and funky tunes of all time. And along with it came a disco-themed video that is hard not to trip on, even when you're completely sober. This is saying a lot, considering this is a list dedicated to trippy music videos you must see high.
eAeon – Bulletproof (2012)
Relationships can be difficult to navigate. But they're even harder to work with when they get routine, almost as if you're going through the motions just to go through them. eAeon's Bulletproof speaks to a love that has gone cold, and the video makes expert use of visuals to take the viewer on that journey with the couple on screen.
Choppy styles of videography and editing aren't the easiest to pull off. Yet this music video does it to such perfection, it makes it hard to look away.
BIGBANG – Bae Bae (2015)
While NIN's "Closer" was unfairly treated as a highly sexually-charged piece when it was more or less the opposite, you'd be completely on the money assuming that of BIGBANG's "Bae Bae."
Mainstream K-pop generally tends to steer clear of overtly sexual themes, but BIGBANG's suggestive track charges full steam ahead into the belly of the beast. And it does so while riding on a video filled with innuendo and psychedelia.
The Pretty Reckless – My Medicine (2012)
If there's one thing better than watching a trippy music video while stoned, it's watching one that also happens to be about being high out of your mind.
The Pretty Reckless have established themselves firmly as one of the most influential rock bands of the modern era. But it isn't just their music that keeps the spirit of rock and roll alive. Their videos are equal parts punk, goth, and psychedelic. This makes it the perfect addition to your collection of trippy music videos you must see high.
WILLOW – Transparent Soul (2021)
Pop, punk, post-rock, and psychedelics blend beautifully in WILLOW's current era. The music video for the track – which speaks to fake people and being taken advantage of – features visuals straight out of a rock and roll production. The blend of punk, goth, and classic rock aesthetics alongside psychedelic colors and effects makes this easily one of the best videos to trip on.
Rone – Bye Bye Macadam (2012)
If you're a Ghibli fan, you're most likely familiar with that one scene from "Howl's Moving Castle" (2004) where Madame Suliman uses a light and puppet show to cause a trip so bad it ages its target up by several decades. This video is essentially that, minus the turning into mush part.
This stunning piece of animated glory features a black-and-white ritualistic dance, a warp speed travel through the stars, and trippy imagery that is sure to have you flying high in no time.
Kendrick Lamar – The Heart Part 5 (2022)
Lamar surprised fans and critics alike with a surprise release, his first in over four years, with The Heart Part 5. The rapper has demonstrated his ability to weave powerful political and sociocultural commentary into his work, and this drop was no exception.
The music video, like the song's core themes, is both an homage to and a critique of the African-American experience, touching on heavy subjects like systemic racism and depression. The smooth morphs from the face of one African-American personality to the next as Lamar raps passionately is pretty trippy, especially because of how seamlessly it occurs.
All up, it's like Michael Jackson's "Black or White" and Childish Gambino's "Feels Like Summer" came together to craft a visually stunning and soul-stirring commentary. This puts it up there as one of the best trippy rap music videos of all time.
French 79 – Hometown (2019)
For anyone part of a diaspora, the notion of a hometown and the loss of your identity and roots is a highly relatable theme. French 79 crafts a familiar and painful tale in this trippy track, both aurally and visually. The disjointed bits and pieces that represent a unified, nostalgic whole make for an intense trip.
OAFF, Landslands – Grip (2021)
OAFF and Landslands pay homage to their Indian culture and heritage in this stop-motion piece. It is easily one of the best trippy animated music videos out there. The imagery uses hundreds of classical Indian paintings, honoring the ancient art of the region. The blend of old and new in both the aural and visual aspects of this piece makes for a truly mesmerizing experience.
Bonobo – Circus (2013)
Much like "Grip," Bonobo's "Circus" uses old footage to create a mesmerizing collage. Unlike it, however, this track tells a rather intriguing tale. It uses archival stock footage of everyday life to craft complex modern machinery. The result is something in between the best homage to surrealist masters of decades past and sociocultural and political commentary on who we've become.
Skrillex And Diplo Ft. Justin Bieber – Where Are Ü Now (2015)
The combination of these three artists offered a blend of electronica, dance, pop, and dubstep that goes just as hard today as it did seven years ago. The song itself is trippy enough, but the video gets increasingly psychedelic as it goes on. The combination is certainly an experience that will elevate your high.
Somebody Mixed My Medicine, Somebody's In My Head Again
Let's be honest – no one wants to experience a bad trip. Ever. And there's plenty of information out there on how to make sure you never do. And one thing they'll all confirm is that good music can elevate a session and help you control the narrative of your trip – at least to some extent.
So the next time you hit that bong, make sure you pop on one of two of these trippy music videos you must see high. There's nothing quite like tripping on an audiovisual experience from another dimension.
Do you have more burning questions around cannabis?
Email us at [email protected] with your questions/topic suggestions and we will get back to you!