Since humanity began bipedal-ing its way through existence, we've had a tendency to assign names and identities to objects we hold dear. Usually, these names have personal meanings attached to them. Not to mention a touch of humor and an undercurrent of culture and tradition. There are a whole host of cool names for bongs that can be just as meaningful and witty.
And, most importantly, a perfect reflection of he who smokes out of them.
Photo: Unsplash
Cool Ideas for Bong Name
One of the easiest ways to pick a name would be to simply figure out what's going to get progressively funnier the higher you are. Here's a list of cool names for bongs to inspire you.
Mothership
Snoop Dogg's "Pounds" line of bongs and pipes feature names he helped pick out so you know they're all certified stoner gems. Every aspect of the line's branding is meant to evoke an experience, and the names are certainly no exception.
So naturally, if you're looking for bong names, Pounds is a pretty good place to start. One series in the line of bongs features names pertaining to large ships, including Rocketship, Starship, and, of course, Mothership. The latter, as Pounds describes, alludes to a bong that delivers the "smoothest rips in the galaxy."
The Commander in Kief
From the mothership to the Oval Office, The Commander in Kief – otherwise referred to as "Barack Obanga" – is a great name for a bong that delivers a hit that is as hard as it is smooth.
Dank Sinatra
Where smoothness is concerned, everybody's favorite crooner certainly warrants a mention. With a voice as smooth as butter and eyes as blue as the ocean, Frank Sinatra won the hearts and souls of many.
If you find yourself being transported on a trip to cloud nine, then perhaps your bong's a bit of a crooner at heart.
Jon Bong Jovi
Of course, you might prefer some mild headbanging as opposed to being a floating mouthpiece. Or maybe you just love Bon Jovi. Either way, this one works and serves as inspiration for other cool names for bongs that are musically inclined.
Puff Daddy
From crooners and pop-rock to hip-hop and rap!
This bong name works for anything really, including pipes and the almighty J. Speaking of which…
J and Silent Bong
Or simply, "Silent Bong," for the ones that offer remarkably quieter bubbling.
Jay and Silent Bob are one of the most iconic stoner duos, so a J and a Silent Bong is, naturally, an equally iconic pairing.
Medusa
For the uninitiated, Medusa is a monster from Greek mythology with the ability to turn anyone that dares to look upon her into stone.
So, naturally, a bong that gets you stoned…surely you can connect the dots!
Bongkey Kong
Got yourself a meaty bong? One that looks like it would out-rep you at the gym any day? Well, there's only one name that works for a beast like that!
Arkansas Chugulug
If you grew up in the '70s – or are simply a fan of the era – you might recall a li'l ol' cartoon by the name of "Wacky Races." If not, you might at the very least be familiar with the dog, Muttley, and his iconic rasping laugh.
The Arkansas Chug-a-Bug was the number 8 car that included a coal-fired pot-bellied stove in the rear and a squirrel in the engine.
You can imagine the laughs this cool bong name is bound to get as the night progresses.
Bong Burgundy
This name works whether you're a fan of Anchorman (2004) or Will Ferrell himself. It's hilarious all by itself, but even more so when placed within the context of the actor's work and personal brand of comedy.
Willy Bongka
Now, to some, Willy Wonka is a hero. To others, he's just a teeny bit bonkers. To a select few, he's a "psychopathic killing machine" whose descent into madness is punctuated by his candy-obsessed child killing spree.
It's all in the perspective.
Whether your bong delivers a magical whimsical high or puts you in the mood to binge crime documentaries all night long, Willy Bongka is a name you'll find yourself growing quite attached to over time.
Puff the Magic Dragon
Originally a poem by Leonard Lipton, then a song by Peter Yarrow of Peter, Paul and Mary, and finally an animated franchise that aired in the '70s and '80s, Puff the Magic Dragon certainly comes off as an ode to Mary Jane.
While the minds behind it have insisted there were no drug references in the original poem or its offshoots, Puff emerged as a stoner icon and the tag will probably never leave his side.
The Professor
A Sherlock pipe called The Professor. That's pretty self-explanatory.
You could, of course, take this cool bong name for a spin and get creative: name it after your favorite Sherlock tale, such as the Devil's Foot, or bestow upon your Sherlock pipe a worthy title such as Professor Longfellow Wadsworth.
Jack the Ripper
Whether you're a fan of crime and mysteries or you're a Halloween aficionado or you just so happen to have a bong that rips like a dream, here's a cool name for you!
Wesley Pipes
Let's call it for what it is: Blade is the OG Marvel superhero and he does not get enough credit for launching the MCU.
Got yourself an equally groundbreaking, earth-shattering bong that has the ability to change lives and perhaps kill vampires on its days off? Here's a name for you.
What's in a Cool Bong Name?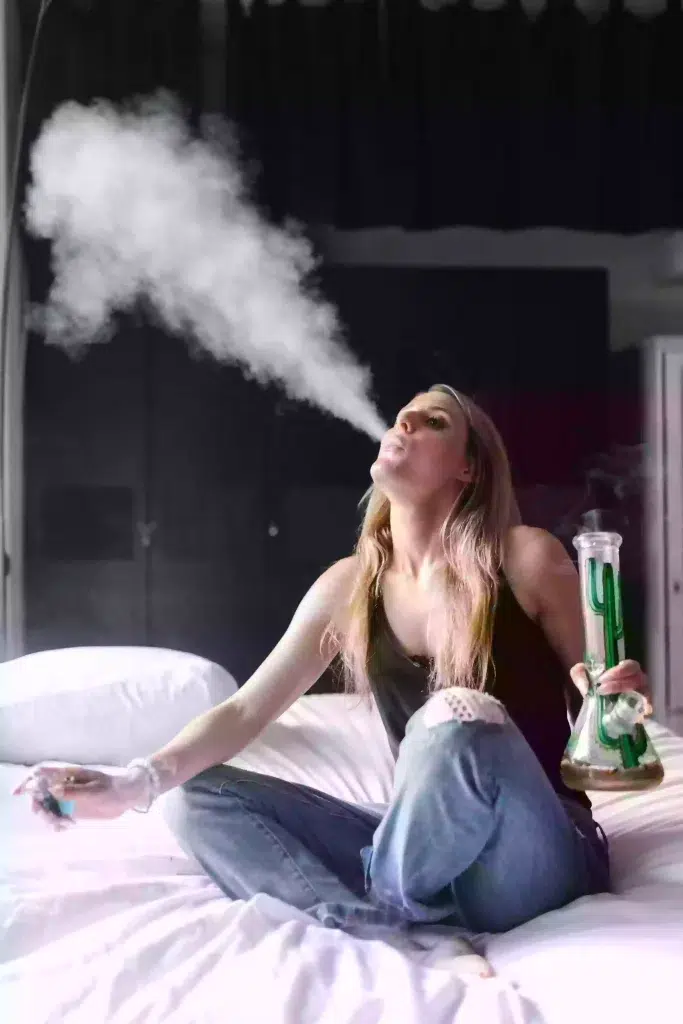 Picking a bong is as important as finding the strain that works for you. After all, it makes no difference how good your weed is if you toss it into the percolating equivalent of a wood chipper past its prime.
And just behind selecting the right apparatus comes the selection of cool names for bongs. You can't create the perfect smoking experience if you don't have a little fun with the process!