Comedy movies are making a splash in 2022. Understandably so, seeing as movie-goers are quite ready to cast off the shackles of pandemics past and embrace a new slightly freer era.
Pair that energy with some dank weed and a few refreshing laughter-inducing films releasing through the year, and you've got yourself a perfect fresh start!
Photo: Flickr
New Comedy Movies in 2022
Amid a slew of reboots and franchises, a few fresh tales are also making their way to the big screens this year. We've put together a list of both kinds of comedy movies to keep you entertained.
Bigbug (2022)
If you find yourself in an endless scroll-through looking for something to watch on Netflix, Bigbug is about to save you a whole lot more time.
We've seen several takes on the whole man versus machine war over the last century. The Terminator franchise is, of course, the most influential one. But recent decades have seen a shift in the retelling of this tale, often with more thought-provoking dark humor depictions.
Bigbug is set in a seemingly-utopian suburbia in the year 2045. The idyllic lifestyle is disrupted when several domestic robots take their respective masters hostage to protect them from a raging android revolt.
What makes this movie exceptionally brilliant is its visual effects. A treat for both the eyes and the mind, this French film is certainly worth watching several times, and at least once high. And once you're done with that, you can put on some Love, Death & Robots, or any other equally trippy show Netflix has to offer to keep the high going.
Jackass Forever (2022)
The Jackass franchise is wild enough to watch totally sober. With increasingly dangerous life-threatening stunts and equally dangerous (albeit for different reasons) pranks performed through the years, this team of fearless daredevils is back for yet another round of slapstick buffoonery.
And seeing as the movie opens with a penis Godzilla, it's safe to say this is a movie that needs to be watched totally baked. When it comes to comedy movies you should definitely watch high, anything under the Jackass banner is right up there on the list.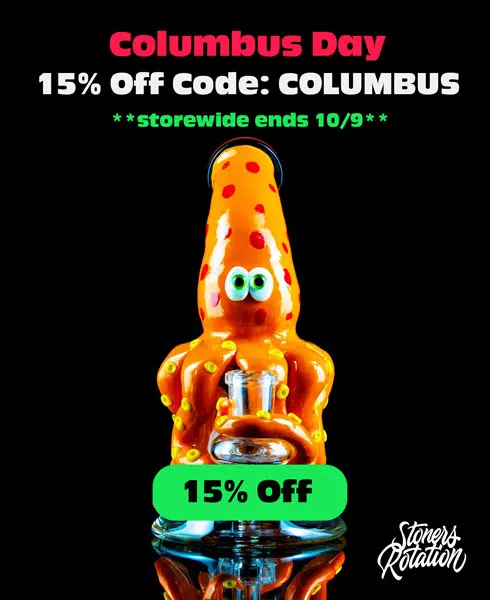 The Lost City (2022)
The Lost City is an upcoming action-comedy starring Sandra Bullock, Channing Tatum, Brad Pitt, and Dan Radcliffe as reclusive author Loretta Sage, her cover model, a real-life action hero, and an eccentric evil billionaire. When Sage's real life starts to mirror her stories, she must team up with an odd group in order to survive a world she is very unprepared to face. Despite it being one of her own making.
The movie's premise brings together some popular tropes from recent action films all while placing Bullock's unique brand of romantic humor at the center. Think The Proposal meets Jumanji: Welcome to the Jungle. Pair that with the kush and you're sure to get quite the adventure ride out of it.
Sonic the Hedgehog 2 (2022)
Sonic is making an anticipated return with the likes of Jim Carrey and Idris Elba joining him on the next big adventure ride. Albeit as his archrivals, hellbent on destroying the world. You know, the usual high-stakes in the life of a highspeed hedgehog.
Thankfully, they took early reviews into account and switched up the character design for this leg of the franchise. Had they chosen not to, this probably would make for a very different kind of trip. Alas, a blue ball of fluff on legs racing across the screen to save the world will have to do.
The Bob's Burgers Movie (2022)
2022 is certainly the year for fans of action-adventure comedies. But if the live-action ones aren't quite doing it for you, the animated ones certainly will!
Bob's Burgers remains a beloved animated sitcom that is still going strong since it debuted over a decade ago. Restaurateur and patriarch Bob keeps his dream business afloat alongside a host of eccentric, oddball characters all of whom return for the first movie in the franchise.
The movie centers on a sinkhole that appears in front of the restaurant. Bob and Linda try to prevent the business from sinking right down with it. The kids find themselves uncovering a mystery. And through it all, there will be singing. That's right – this isn't just any comedy. It's a musical comedy.
Buckle in, cause this one's going to get trippy. Don't forget to binge-watch the show in preparation!
Minions: The Rise of Gru (2022)
Is there anything trippier than a talking banana bubble in denim overalls?
After several installments in the larger Despicable Me franchise, you'd think we'd get tired of seeing these little creatures go on yet another adventure. Yet, somehow, we come back each time and find ourselves in splits as they fall down yet another rabbit hole of misadventures.
A sequel to the Minions film, The Rise of Gru sees the little whippersnappers finally unite with the 12-year-old criminal mastermind who will go on to steal the moon.
While you don't need to watch the entire franchise to be able to enjoy this one, it certainly does make for a good watch session regardless. After all, the Despicable Me franchise is definitely chock-full of comedy movies that are infinitely better when viewed high.
Book of Love (2022)
Stepping away from the animated comedies is this bilingual rom-com that layers in a touch of coming-of-age. Sam Claflin stars as a jaded romance novelist whose latest failed venture becomes a sudden hit in Mexico. When he travels to the country to promote it, however, he learns why: his otherwise-dull novel now has interjections of intense erotica thanks to his Mexican translator.
When the duo are forced to embark on a book tour, sparks soon fly. Sometimes out of anger, sometimes out of love. This is a classic tale of opposites attract, and while some might deem it predictable, others might welcome it for its nostalgic simplicity.
If you're a fan of the genre and are looking for something to watch on a slow Sunday as you puff away, this film is certainly worth a shot.
Hocus Pocus 2 (2022)
Hocus Pocus was originally released in 1993. It starred Bette Midler, Sarah Jessica Parker, and Kathy Najimy as witches who, after being accidentally resurrected after 300 years on Halloween night, unleash terror upon the unsuspecting little town of Salem. That is, of course, until the town fought back and sent the sisters packing right back from whence they came.
Nearly three decades later, they return. Whether you're a millennial or a Halloween aficionado you're sure to find yourself transported to another world when this movie drops. Despite the original film's failure at the box office it went on to become a cult classic. Its blend of old-school visual effects, classic '90s over-the-top acting, and a hilarious script made it a Halloween must-watch. The second installment is sure to be just as beloved.
Thor: Love and Thunder (2022)
Taika Waititi's brand of understated humor earned much-deserved praise after he reinvigorated the Thor franchise with 2017's Ragnarok. He returns once again, this time teaming up with characters from all the Thor films and pairing them with the Guardians of the Galaxy. And the cherry on top is Christian Bale who will play Gorr, the God Butcher.
Ragnarok was praised as much for its humor and acting as it was for its visuals. Love and Thunder will flip things on their head quite a bit storywise, but it's also quite likely to feature some pretty intense world-bending visuals. Meaning you're definitely going to want to view this one high.
And seeing as there still isn't so much as an official teaser for the film, it's safe to say we're probably in for a pretty big treat.
The Unbearable Weight Of Massive Talent (2022)
Saving the best for last, The Unbearable Weight of Massive Talent is an action-comedy starring Nicholas Cage. And if you've followed Cage's career, that line alone will be enough for you to hit that bong several times before you rush out to go watch this. But allow us to tell you a little more, nonetheless.
The film stars Cage as himself. Well, a version of himself. Cage (the character) is a fading actor who, facing financial ruin, accepts a one million dollar deal to attend a fan's birthday party. Along the way, he gets recruited for a secret CIA mission that requires him to reprise some of his most iconic roles to save the day.
The premise of this film is so ridiculous that it works. And there really isn't anyone who could play this role besides Cage.
Live, Laugh, Puff: The Comedy Movie Experience
Watching movies high is, frankly, the superior way to watch any film. But this is especially true for comedies. Laughter is the best medicine, as they say. Pair that with the other great medicine – cannabis – and you're giving your brain the serotonin boost that changes the day.
Do you have more burning questions around cannabis?
Email us at [email protected] with your questions/topic suggestions and we will get back to you!