Weed and good television go hand in hand. There's no better feeling than getting cozy on a couch and putting on a great show right after you've hit a bong. But picking a show can sometimes be a buzzkill. Don't worry, though; we got you. So save yourself time scrolling and check out this great list of shows to watch baked that we put together for you!
Photo: Unsplash
Best Shows To Watch Baked
American Vandal
American Vandal is a two-part crime satire set in high school. Each season deals with a different, equally ridiculous, and hilarious crime. In one of the seasons, the high-school detective duo is out to catch a criminal named 'Turd Burglar'. That's how whacky the show is. The best part about this series is that despite being hilarious, it's shot in a serious investigative style, making it an excellent pick for shows to watch baked.
After Life
This show is so heartwarming and funny; it'll make you laugh and cry simultaneously. Ricky Gervais delivers one of his best performances yet as Tony, a man struggling to find meaning in life after his wife lost her life to cancer. He becomes depressed and uses his inability to care as his superpower. Finally, he realizes that he can't stay a lone, angry wolf forever and needs help to get by in life. The show's third season was released recently, and it's the perfect time to pack a bowl and enjoy a long weekend binge.
Love Death + Robots
This animated anthology series has been all the hype the past few months, and with good reason. It's a one-of-a-kind trippy animated sci-fi show that doesn't stick to one particular genre, so there's something for everyone. The episodes cover topics like the history of robots, how technology, their life in the apocalyptic age, and even plans for world domination. But, of course, there's also time for comedy and romance among these massive schemes. There are three seasons so far, and each episode is not only intense plot-wise but also a visually rich cinematic experience.
Severance
This new show has already made its name one of the best sci-fi dramas in recent years. The show is based on the employees of a company named Lumon, which lets employees separate their professional and personal memories. Everything is smooth sailing until a new, rebellious employee joins the team. It's one of the most eerily scary shows to have come out this year and definitely a great pick for those of you who are looking for trippy shows to watch baked.
Superstore
The Office and Friends are great stoner shows, but we've all seen them a million times. If you're looking for something fresh but equally funny, check out Superstore. It is an underrated gem that first aired in 2015 but remained under the limelight until recently. The show deals with the employees of Cloud 9, a big box store in Missouri, and their daily antics and misadventures. The right mix of funny and wholesome makes it such a great show for stoners.
The Mind, Explained
If you love spending your time high learning new stuff, we've got just the pick for you. With The Mind, Explained, prepare to get your mind blown with facts about the human conscience. This two-season series covers many fascinating topics – from psychedelics, dreams, memory, and creativity to personality. If you're a nerd for anything related to psychology, then we guarantee you will enjoy this show.
Squid Game
Did you know that Squid Game is the most-watched show on Netflix, viewed for 1.6 billion hours? If you're wondering if it's worth the hype, the answer is yes. The series is based on the lives of financially helpless people, who are invited to participate in a seemingly simple, childish game and earn a large sum of money. While it all seems too good to be true initially, the contestants realize that the stakes in the game are high, and there's no room for error. The director announced this week that there will definitely be a second season, so there's no better time to take a tab and catch up on this great show.
The Circle
This social-media popularity contest takes cat-fishing to the next level. In this reality show, the contestants are all put up in different rooms. They have to interact and rank each other based on popularity without actually meeting each other in person. They can choose to enter as themselves or as a completely different person if they feel that will help them play better. This series is super trippy and will make you question everything you thought you knew about social media. This is what makes it a great pick for shows to watch baked.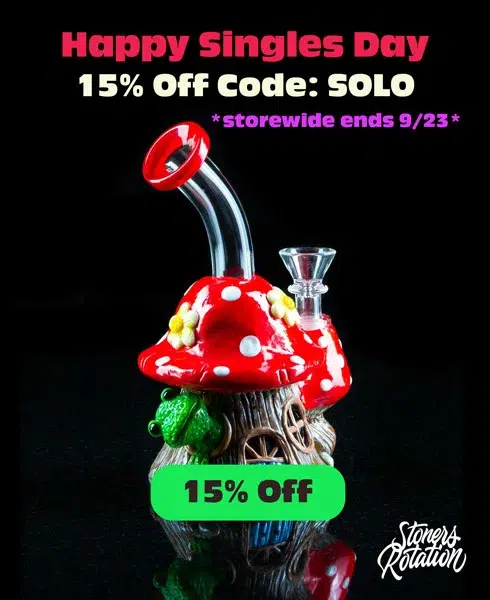 Black Mirror
If you want to know just how messed up technology can get, give this insanely trippy futuristic sci-fi anthology a shot. This scary take on technology-gone-wrong is crazy as is; it's even trippier to watch right after smoking a blunt. From dating, parenting, politics, and war – this series has it all and is among our top picks for shows to watch baked.
Midnight Gospel
Despite being one of the best-animated shows in recent years, this series has somehow flown under the radar. So, if animated shows and trippy psychedelic landscapes are your thing, you should definitely add this to your list of shows to watch baked. The show's plot revolves around a space caster who traverses through trippy universes and explores life's existential questions.
Honorary Mentions
Schitt's Creek
Love is Blind
Barry
Breaking Bad
Community
More Trippy Shows To Watch Baked
From comedy, and drama, to sci-fi, this list has a good mix of trippy shows to entertain you when you're stoned. If you're looking for more fun stuff to watch high, check out our hand-picked list of trippy TV shows.
Do you have more burning questions around cannabis?
Email us at [email protected] with your questions/topic suggestions and we will get back to you!