With wacky, nonsensical storylines and stimulating, variegated visuals, cartoons are a fail safe option when you want to watch something high. If you're looking for quality animated content to watch blazed, then you're in the right place. Below you'll find the best classic stoner cartoons to watch high.
Photo: Wikimedia Commons
Top 12 Best Classic Stoner Cartoons
Aqua Teen Hunger Force (2000-2015)
Unsurprisingly one of Adult Swim's longer running originals, Aqua Teen Hunger Force has long been a go-to classic stoner watch. There's something about the absurdity of sentient fast food items interacting combined with unexpected honest profundity that make this show the cream of the crop when it comes to high viewing.
Adventure Time (2010-2018)
Adventure Time is another of the absolute classic stoner cartoons, with ludicrous plot lines, O.T.T action sequences and quick firing wit to keep entertained and sucked in from start to finish. Follow the wild characters, humans, magical animals and enchanted princesses alike a they navigate the the post-apocalyptic land of Ooo.
Invader Zim (2001-2006)
If you like your cartoons a little on the dark side, then Invader Zim might be the best stoner animation for you. Created by Jhonen Vasquez, this intergalactic series follows an alien intent on conquering the Earth with equal parts violence and sarcasm.
Futurama (1999-2013)
Even without the influence of pot, Futurama is a golden comedic cartoon. However, stoned, it has that extra something to help transport you to the year 3000.
Robot Chicken (2005—)
Actor Seth Green, from Family Guy, and Matthew Senreich teamed up to create this off-the-wall cartoon hit, featuring a series of pop-culture pastiches using stop-motion animation of toys, action figures and dolls.
The titular character was a regular chicken until he was run over by a car and revived as a cyborg form by a crazy scientist called Fritz Huhnmorder. Said mad scientist then proceeds to torture Robot Chicken by forcing him to watch an array TV shows which form the sketches making up the bulk of the show.
Rick and Morty (2013—)
Of course, no list of classic stoner cartoons would be complete with mention of Rick and Morty, the titan of trippy, baked animation. With exceedingly clever and sophisticated plotlines, plus sharp social commentary and a brilliant sense of humour, this Adult Swim masterpiece is a must-see for all stoners.
Metalocalypse (2006-2013)
Another one for dark comedy fans, Metocalpyse is known for its excessive violence and sordid themes. The series follows the epic misadventures of Dethklok, the American-Scandinavian metal rock band who have an inordinate influence over their fans.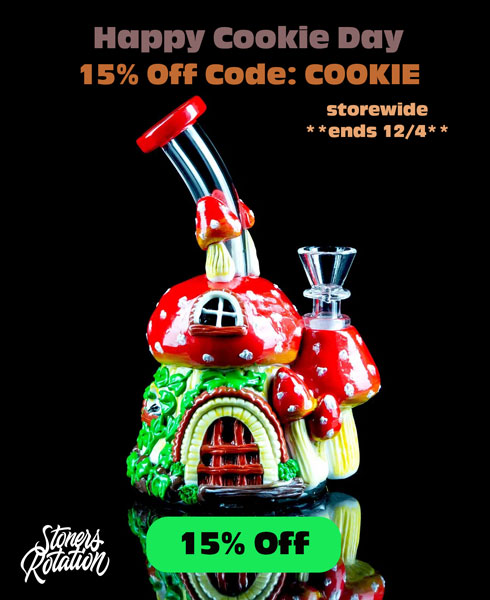 Regular Show (2009-2017)
The indolent blue jay, Mordecai and his raccoon pal Rigby work as groundskeepers at a local park, but are constantly trying to slack off. In their attempts to get out of work, they encounter a series of surreal happenings and occasional misfortune.
Chowder (2007-2010)
Chowder, like the popular creamy stew, follows the hijinks of an aspiring chef (also called Chowder) as he works as cooking apprentice to notorious chef Mung Daal. Along with the other sous-chefs, Panini and Schnitzel, the culinary cartoon world gets increasingly off-kilter. As far as classic stoner cartoons go, this ones particularly appealing for making those munchies extra delicious.
Ugly Americans (2010-2012)
A hugely underrated cartoon series with a cult following, Ugly Americans follows the bizarre professional life of a social worker tasked with helping monsters, demons and every fantasy creature under the sun assimilate in New York.
Spongebob Squarepants (1999—)
Sometimes revisiting cartoons from your childhood is just the ticket when you're stoned, so why not revisit Bikini Bottom and relive the various outlandish adventures of SpongeBob and his wacky aquatic neighbours. Plus, as well as going back to those early classic episodes, you can catch up on the newer ones which are still just as hilarious.
South Park (1997—)
Finally, the absolute classic cartoon South Park had to make an appearance on the list. Created by Trey Parker and Matt Stoner, this controversial animation series is known for its razor sharp social commentary and causing uproar for unashamedly parodying real life celebrities and politicians. It's also credited with correctly predicting many important world events!
Bonus Picks
Beyond the top 12 above, there's a huge selection of classic stoner cartoons perfect for watching high. For more top picks, check out the titles below:
Space Ghost: Coast to Coast (1993-2011)
Samurai Jack (2001-2017)
Sailor Moon (1995-2000)
Bob's Burgers (2011—)
Superjail! (2007-2014)
King of the Hill (1997-2010)
More Stoner Cartoons
Next time you're lighting up a joint and looking for great content to watch high, put on any of the above classic stoner cartoons and you won't be disappointed. However, if you're still looking for inspiration for that perfect animated watch while stoned, check out our guide to the Best Trippy Stoner Cartoons.