Stoner Stand Up Comedy Specials
Congratulations on completing your search for the best stand up comedy specials to watch high O stoner. Our hilarious comedians are not left out in the great circle of pot. Comedy and Marijuana go together like Peanut Butter and Jelly. As a matter of fact; in the whole of the entertainment industry, comedians are the most vocal about their weed escapades – because in comedy, you can get away with almost anything except for murder and sexual assault (ask Bill Cosby).
Let's say the Black Panther decided to light one up or munch on some 'high' quality edibles instead of consuming the Heart-Shaped Herb, he could have been the first funny black superhero (too bad). Amongst the highly revered superpowers bestowed on stoners by the most special herb in the universe (way better than Black Panther's Heart-Shaped Herb) are the abilities to become funny and a refined sense of humor to dive deeper into jokes and perceive them unclad in their purest form. Yes, getting stoned makes everything funny and funny things funnier.
While weed is great at fixing a permanent grin on your face, vibrating the most horrible sound of laughter flying out from your vocal cords, testing the limits of your larynx, making you gasp for air and laughing to the point of tears, we can do you one better. What do you say to being stoned while you watch a probably baked comedian talking about being stoned? I call it paradise in the cloud! There would be so much to relate to and you're surely going to get knocked out (Double KO).
Pack a bong bowl, melt into the couch and watch these 'high' profile comedians delivering 'high' level comedy specials:
Joe Rogan: Triggered (2016)
Whether you're old school or Gen Z, Joe Rogan has made his mark across multiple eras. You may remember him as a comedian or as the host of the popular podcast "The Joe Rogan Experience". One time, the billionaire CEO of SpaceX and Tesla Elon Musk publicly smoked weed on The Joe Rogan Experience (the pot is definitely hot around Joe Rogan). This comedic blast from the past will give you a good run for the money you spent on pot while seeing it.
Doug Benson: Doug Dynasty (2004)
It comes as no surprise that Doug Benson is a marijuana rights advocate. You can say that Doug doesn't smoke pot, rather, pot smokes him. Doug is so much in love with weed that he hosts a video and audio podcast called "Getting Doug with High" (see what he did there? A true weed enthusiast). The show features several recurring segments including: High History, Pot Topics, Pot Quiz Hop Shot, etc. You can never go wrong with Doug!
Dave Chappelle: Killin' Them Softly (2000)
If any man was born to do comedy, that man is Dave Chappelle. He's one of the few that approaches comedy with a completely effortless process. He's in a different realm and I would like to believe that the passkey is weed. Chappelle forces nothing and just goes with flow, the kind of flow you need to ride on when baked.
Chris Rock: Kill the Messenger (2008)
Chris Rock's performance sets the bar for comedy. If you've ever doubted your ability to assimilate adult jokes, what you need is a foul mouthed Chris Rock and some good weed. Yepp! That's the recipe (Pro tip: Adult jokes hit different when you're stoned).
Louis C.K: Live at the Beacon Theater (2011)
You watched this comedy special sober (maybe because weed was illegal in 2011)? Do yourself a favor and (re)watch thoroughly baked. Louie will tear up the stage in a theatre and do it better in your living room only if you would watch him after a good old dab.
Ready to laugh better than Jim Carrey in Ace Ventura?
It's time to shut the windows (you'll laugh so hard you'll add soundproof windows to your Amazon wishlist), make a cloud of smoke and have the best time of your life with the best stand up comedians. The Comenja (Comedy ganja) awaits. You can also take a look at the best movies to watch high in case you need to tone things down a little.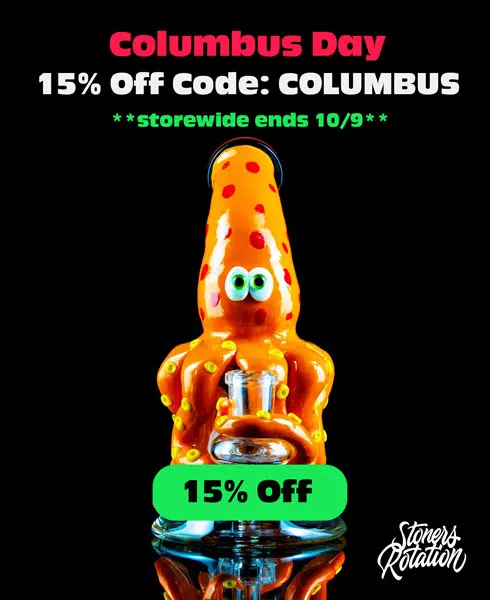 Do you have more burning questions around cannabis?
Email us at [email protected] with your questions/topic suggestions and we will get back to you!