What is a Carb Cap?
A carb cap is a small piece of glass, quartz or titanium that you place on top of your banger when dabbing to trap heat and distribute oils evenly to produce bigger, more flavorful hits. It's simply a must for low-temp dabs. This list of the best carb caps for banger includes bubble, flat-top, directional, channel and vortex styles.
Photo: Flickr (mashup)
Best Carb Caps for Banger
Zig Zag UV Carb Cap
This UV carb cap comes in a variety of cool, trippy colors so you can get one that matches your rig perfectly.
Glow-in-the-dark Bubble Carb Cap
This glowing carb cap will make dabbing in the dark that much better, as it illuminates the wax in your banger.
Speckled Heady Carb Cap
This heady carb cap for banger is beautifully crafted from thick borosilicate glass. It's extremely durable for the butter fingers among us.
Vortex Carb Cap for Banger
While this is one of the more expensive vortex carb caps featured, it's also one of the best. The large carb hole and slits along the side control airflow to help it spin. It's high quality quartz material and sophisticated design will get your terp balls spinning like crazy every time.
UFO Directional Carb Cap
The UFO spinner carb cap design serves a higher purpose. Since it's easier to grasp, it keeps your fingers safe when handling. The directional airflow also creates puffier clouds so you'll get the most out of your dabs every time.
Puffco Peak Carb Cap & Tether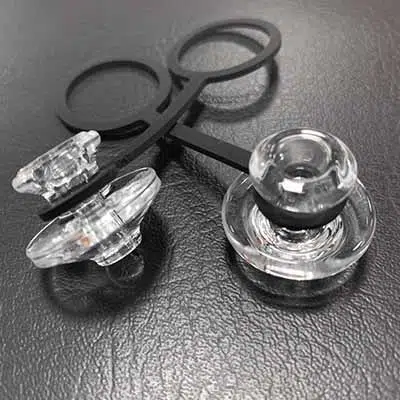 This Puffco compatible cap is one of the best available. It fits the Peak perfectly and will boost your clouds, regardless of if you're using it with terp pearls or not.
Puffco Peak Bubble Carb Cap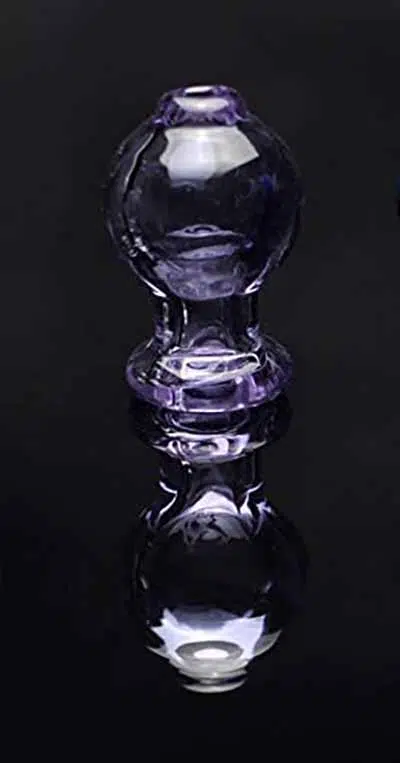 While you could use the flat carb cap that comes with the Puffco, this bubble cap for banger creates much more vapor. Puffco also has a separate ball cap but the one featured here is thicker and seems to direct air better which means bigger, puffier clouds.
Glass Bubble Carb Cap
Made from high quality borosilicate glass, this bubble carb cap comes in purple or pink.
Glitter Bubble Carb Cap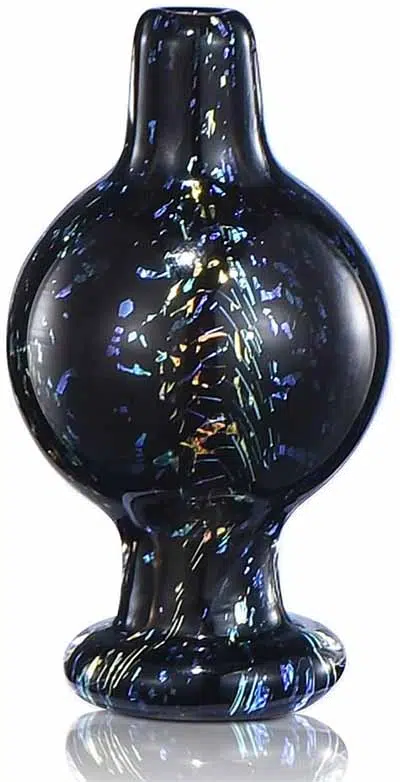 Made from American borosilicate glass, this dab carb cap measures 26mm in diameter, creating perfect airflow for dabs.
Triple Carb Cap Dabber Stand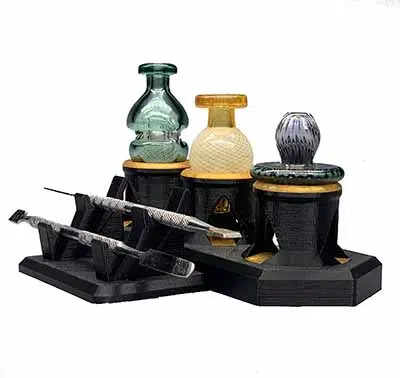 If you're looking for a full set, this dab station includes three borosilicate glass carb caps, two metal dabbers and a dab stand. The caps are lined with silicone to avoid cracking and sticking. The coolest part is that the stand is 100% biodegradable since it is extracted from corn.
Dab Tool with Carb Cap Stand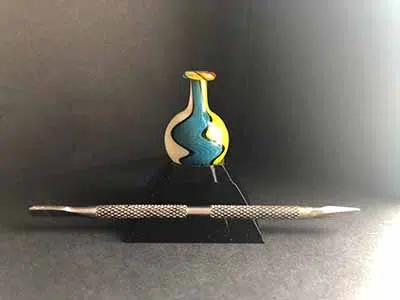 Made from a 3D printer, this dab stand will be the ultimate game changer in your life.
Glass Cactus Cap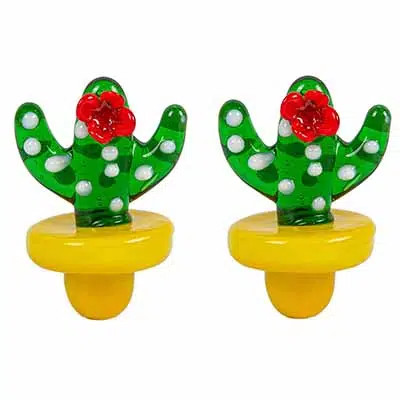 These matching cactus carb caps are perfect for you and a friend. Handmade from glass, they'll be a pleasant reminder to grab a glass of water before you take a fat dab.
Channel Carb Cap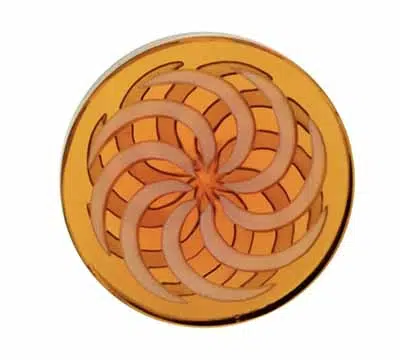 The spiraling channels of this glass carb cap help deliver the highest quality vapor by creating a vortex. Pair with terp beads to get the most out of each dab.
Dr. Dabber Switch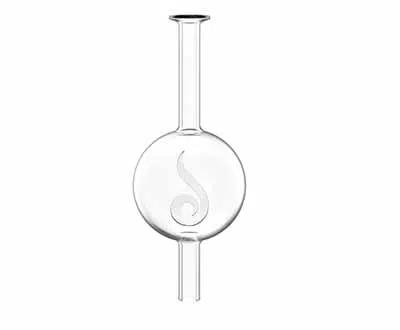 The directional airflow of this carb cap for banger produces thick vapor and delicious hits.
Mushroom Cap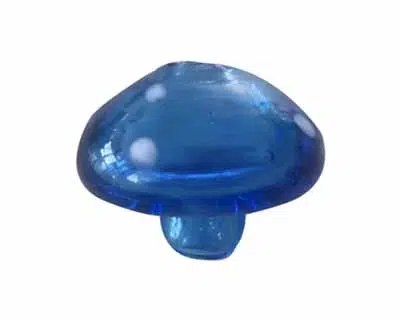 This mushroom carb cap is as cute as it is functional. While it appears to be a simple fungi, its adorable shape evenly distributes concentrates. It forms a seal with most flat tops and the pitched hole of the cap draws concentrates towards the upper edges of your banger.
Terp Spinner Cap Set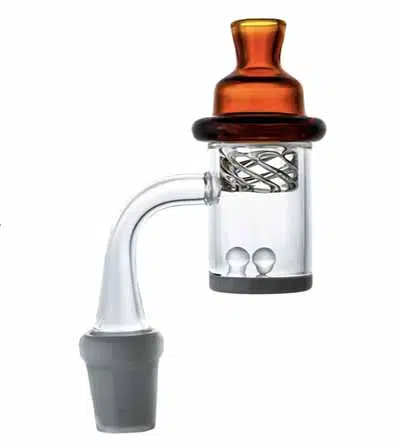 This terp set includes a flat top banger, cyclone carb cap and two quartz terp pearls that will let you unlock the full potential of your terps.
Flat Top Cap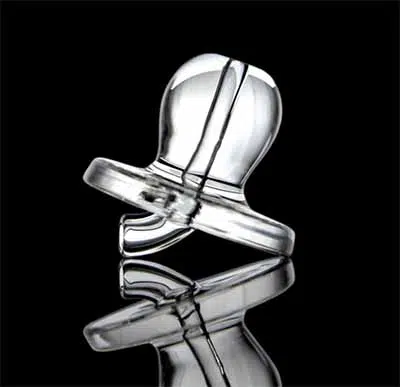 This directional carb cap will leave you pleasantly surprised by how well it spins.
Silicone Carb Cap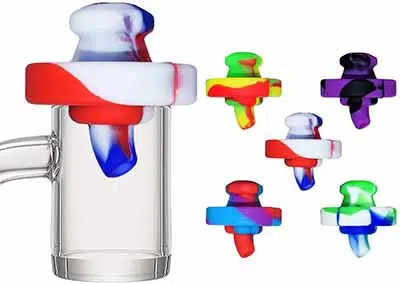 Made from heat resistant food-grade silicone this piece is perfect if you tend to accidentally drop your glass. With this silicone cap in hand, you'll never have to worry again.
Titanium Carb Cap


This titanium enail carb cap creates massive hits so you'll be a happy dabber indeed.
Carb Cap Holder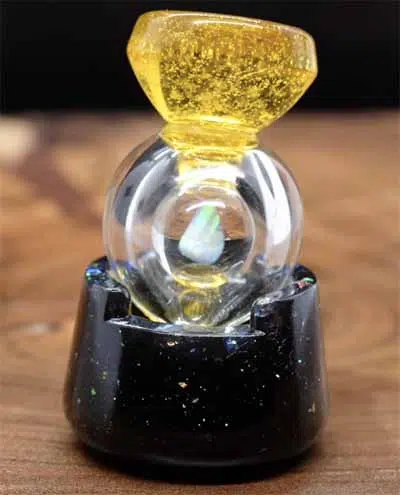 This holder made from nonflammable resin fits 20-40mm sized bubble carb caps. You can use it to hold your dabbers as well.
Quartz Banger Universal Cap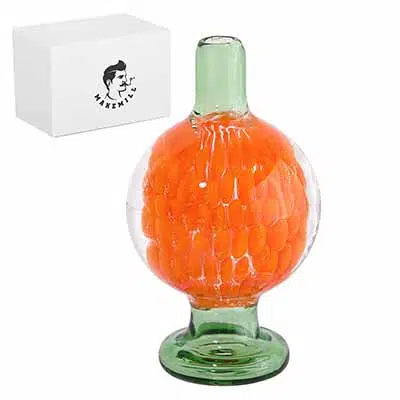 This universal quartz cap comes in bubble style, has great suction power and will work swimmingly with most bangers.
Duck Cap
Made from thick glass, these duckies will have you faded in no time.
UFO Carb Cap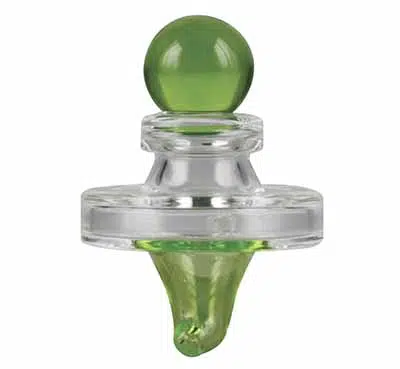 This directional carb cap for banger shaped like a UFO fits 25mm bangers and is made from borosilicate glass.
Alien Cap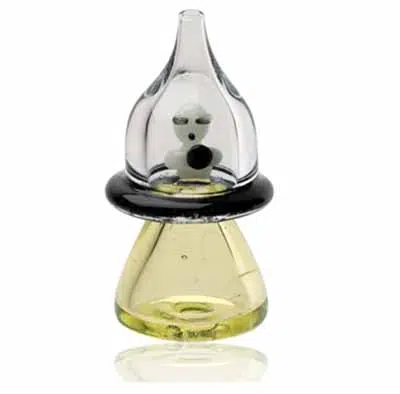 What is more fitting than an alien driving a UFO carb cap? Even better is that it glows under UV light.
Marble Terp Set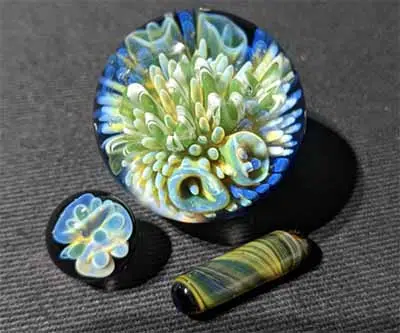 This terp slurper set is ideal if you want a matching custom marble, terp ball and pill made from high quality, heady glass.
DIY Carb Cap
You don't even need to make a homemade carb cap. You can use things that you most likely already have at home. When you're in a pinch simply use one of the following: a smoking bowl, a silicone wax bucket or even your grinder.
How to use a Carb Cap?
Once you've added your dab into your hot nail, cover the bucket with your cap. Simply lift and put back in place to adjust the airflow.
Compatibility with Nails
As a general rule of thumb, bubble, directional and flat styles typically work with flat top bangers. Slanted bangers require slanted style caps while universal caps pair with most everything.
Up in the Clouds
Now that you've found the missing piece in your collection, you can sit back and relax with one of these trippy movies during the next sesh.