Adult Swim is the equivalent to Cartoon Network's daytime programming, except at night, for adults and mostly stoners. If its regular roster of adult-oriented animated and live-action shows – among other things – wasn't enough, Adult Swim Games also exists if you're looking for something altogether more interactive.
Image: Flickr
Adult Swim Games
To many who don't really know what it's about, Adult Swim comes off as the modern version of the vinyl store on the street corner, sorely outdated and borderline derelict yet still home to the same few regulars, the outliers who continue to indulge a relic of an era long since passed. Except in the case of Adult Swim, it has only become bigger over the years, even as it maintains its position as somewhat obscure.
It's vinyl, but instead of going extinct gradually, it becomes more popular by the minute without ever losing its essence as a magical nighttime block that is as whimsical and surreal as it is transgressive and transcendental.
And it just so happens, Adult Swim has games too!
Soundodger+
Sounddodger+ is an audio-visual treat that just screams stoner. At its core a dodge-em-up game, this one takes your experience to the next level by blending musical elements with a symphony of bullets and lasers. And that makes it guaranteed to send you on one hell of a trip.
Super House of Dead Ninjas
There are a ton of top-tier Adult Swim adventure games, but Super House of Dead Ninjas is definitely one of the most enjoyable out there. As the name suggests, you get to play as a deadly ninja with an arsenal of weapons and skills at your disposal.
Your goal is to descend a 350-story tower within 30 seconds, battling increasingly difficult challenges along the way. The game generates each tower randomly, meaning you're not playing the same game over and over. To top it off, power-ups allow you to extend your time limit and enable a "rage" mode that makes you invulnerable. So, essentially, 30 seconds can go for a lot longer than you'd expect.
The high-paced, gore-filled fiesta is the perfect way to avoid knocking out on the couch entirely.
ToeJam & Earl: Back in the Groove
A blast from the past, Back in the Groove is the fourth release in the ToeJam & Earl video game series. And it's as fresh as ever with some major throwbacks to the '90s, including some dope hip-hop to elevate your experience.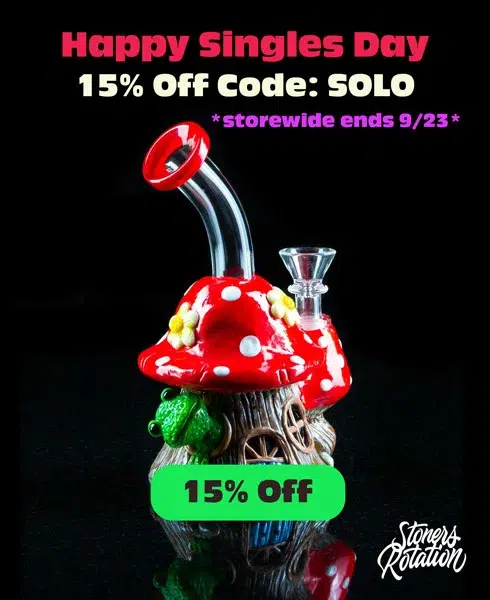 Get your stoner squad together and help our leading duo navigate the strange planet called "Earth."
Battle Chef Brigade
Battle Chef Brigade features a wide roster of fantasy creatures who must brave perilous adventures so they can collect ingredients. But that isn't the final battle of this game: that would be the final puzzle-based cooking competition in front of a panel of judges.
If you plan to play this game stoned, make sure you've got your munchies ready to go!
Desync
Desync is a single-player first-person action game that equips your player with lethal, digital weaponry and a wide range of violent attacks. Outside of the usual draws of strategy and climbing the leaderboard, Desync is especially intriguing for its use of neon polygons.
These make for a trippy, Tron-esque ride that is even better when stoned.
Headlander
Speaking of rides, try Headlander on for size!
This retro-futuristic '70s sci-fi-inspired treat is everything a stoner could possibly want in a game. Set in a utopia gone wrong where our robot overlords have taken over and our bodies are lost to the mecha-verse, you get to play as the last human left alive. As a bonus, all that's left of you is your disembodied head.
Enjoy!
Jazzpunk
Maybe dystopia isn't really your jam, but you still enjoy the thrill of discovery. In which case, Jazzpunk is probably right up your alley.
An exploration game with no set time limit, Jazzpunk's focus is on world-building and comedy, largely thanks to its interactive NPCs which offer gags that'll keep you coming back for more.
Pocket Mortys
It would be an absolute travesty to talk Adult Swim and not mention Rick and Morty.
Explore the multiverse with Rick as he tries to assemble and train a team of Mortys to battle rival Ricks with their team of Mortys.
Death's Gambit
If you're looking for an Adult Swim Game of Thrones-inspired game, look no further. Death's Gambit is a role-playing game that offers a medieval setting, complete with knights and beasts and strategy-based challenges that will have you scheming and plotting.
Amateur Surgeon
Adult Swim's surgery game has been a hit ever since it dropped all the way back in 2008. As the name suggests, you get to play as an amateur surgeon. The fun part is your story begins when you, as a pizza delivery boy, run over a doctor and have to perform surgery with tools you have available.
And then you get to operate a back-alley surgery shop that makes medical care accessible to all.
Robot Unicorn Attack
As one of the network's longest-running and most popular games, Adult Swim's unicorn game is one of the most visually captivating and entertaining games that never ends. Erasure's 1994 hit song "Always" found a new audience thanks to featuring as the backing track for this endless running saga wherein you allow your inner robo-horse to run free and wild, leaping over obstacles and charging full-steam ahead.
Zenzizenzic
Roleplaying roguelikes are intriguing enough on their own. But when you pair the subgenre with a high-octane twin-stick shooter and an equally thumping soundtrack, you've got yourself an experience that will get your heart racing and your blood pumping. And if that isn't quite enough for you, the game's abstract art style is absolutely gorgeous and wonderfully trippy.
Samurai Jack: Battle Through Time
Based on the critically-acclaimed and beloved animated show Samurai Jack, Battle Through Time serves as an alternate ending to the series finale.
Samurai Jack follows the titular warrior as he battles an evil shapeshifting demon named Aku. In their battle, Aku sends Jack to a sinister, dystopian future. Jack desperately battles, often in vain, to return to his time and stop Aku once and for all.
The final season, a revival that aired over a decade after the original series ended, gave fans a much more mature, dark ending to the saga. For those who were left burdened by the show's ending, Battle Through Time offers some reprieve.
Volgarr the Viking
As swanky as new-age games can be, there's something about old-school classic arcade games that just hits the spot. Maybe it's the simplicity, perhaps it's the nostalgia. Either way, Volgarr the Viking checks all the boxes.
Inspired by '80s side-scrolling platform games, Volgarr the Viking allows you to explore worlds and battle enemies along the way. Charged with defeating the evil dragon by none other than Odin himself, Volgarr will take you down memory lane – from treasure chests and multi-level journeys to the literal skeletal remains of Rastan.
Hemp Tycoon
Ending as strong as we started, we round out of this list with Hemp Tycoon, a hemp farming simulation that allows you to learn the ins and outs of the hemp industry. With knowledge about hemp farming delivered alongside lessons in growing a business, this game is perfect for anyone that might be interested in entering the field themselves.
It is one of many weed farming games out there, but this one is one of Adult Swim's most addictive games for sure.
Adult Swim Games Online
Adult Swim has been at the forefront of creating fresh, original content for decades. Its game publishing division, while active since 2005, began offering a space for indie games in 2011. And that's when it really took off, offering gaming content that was premium quality and unlike anything else on the market.
Thanks to that, Adult Swim games are perfect for stoners. And will probably continue to be a favorite in the community for many more decades to come.
Do you have more burning questions around cannabis?
Email us at [email protected] with your questions/topic suggestions and we will get back to you!