Being a stoner can mean many things. One of the major draws that get people interested in cannabis is its ability to open your mind up to the endless possibilities of existence. And, naturally, when that happens, you get some pretty amazing stoner quotes out of the experience. Sometimes these have to do with smoking up, sometimes they have to do with life itself. And sometimes they go beyond all of that, transcending our lived experiences and accessing higher consciousness.
But mostly, it gives us a whole lot to think about between now and the next smoke sesh.
Photo: Pexels
Stoner Sayings and Quotes
Whether it be quotes about being stoned or a stoner or more general stoner quotes that make you think about life, stoner quotes are truly some of the most eye-opening, insightful sayings you'll find. And some of the best ones come straight from the horse's mouth, in a manner of speaking.
Famous Stoner Quotes
There are plenty of stoner quotes that come from some of the most famous stoners in the world, many of whom are also weed activists who have pushed for legalization and decriminalization of the healing drug.
"The best medicine is and always has been cannabis."
Willie Nelson was vocal about his love for marijuana, crediting it with saving his life. He also famously gave up cigarettes and whiskey in favor of the bud back in the '70s.
"Tommorrow never happens. It's all the same f***** day man."
Janis Joplin was an absolute legend when it came to her musical craft, and perhaps one of the greatest reasons for that was her ability to see life for what it was. And if this quote from her didn't quite hit you, the next one probably will.
"There isn't going to be a turning point…"
"…There isn't going to be any next-month-it'll-be-better, next fucking year, next fucking life. You don't have any time to wait for. You just got to look around you and say, "So this is it. This is really all there is to it. This little thing." Everybody needing such little things and they can't get them. Everybody needing just a little confidence from somebody else and they can't get it. Everybody, everybody fighting to protect their little feelings. Everybody, you know, like reaching out tentatively but drawing back. It seems like such a shame. It's so close to being like really right and good and open and amorphous and giving and everything. But it's not. And it ain't gonna be."
Joplin didn't just see people for what they were, she saw straight through the veil of existence. Whatever she was smoking, Joplin knew exactly what life was about. And every quote that escaped her lips was pure existential gold.
"Inhale the good shit, exhale the bullshit"
In case Joplin's comments got a little heavy, here's a quick reminder to take a nice long drag and destress your soul.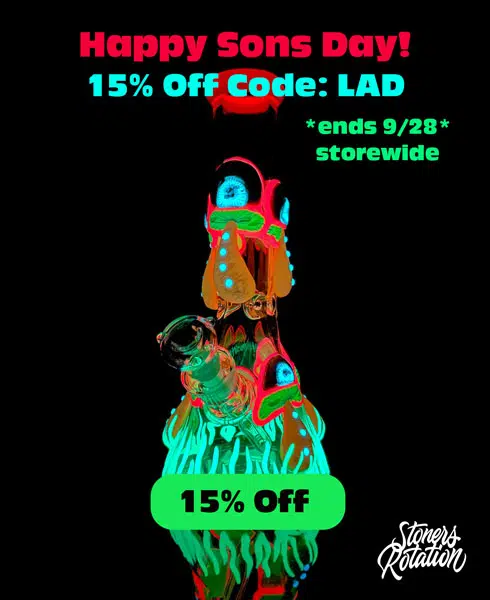 Bob Marley Stoner Quotes
We can't talk about famous stoner quotes without mentioning the legend himself. Bob Marley's music and wisdom helped shape how so many of us view weed itself. Here are some of his best quotes to remind you what he stood for, and why so many famous folks continue to fight against the stigma around being a stoner.
"When you smoke the herb, it reveals you to yourself."
"Life is one big road with lots of signs…"
"…So when you riding through the ruts, don't complicate your mind. Flee from hate, mischief and jealousy. Don't bury your thoughts. Put your vision to reality. Wake up and live!"
"…I wish money didn't make us who we are. I just wish we could redo society."
That Marley's vision of society was so painfully simple yet unattainable makes this full quote gut-wrenching: "I wish we were all hippies and did yoga, lived in cottages, smoked weed, accepted everyone for who they are, and listened to wonderful music…"
Stoner Hippie Quotes
Speaking of hippies, many of whom idolize Joplin, Marley, and many other famous stoners, here are a few trippy stoner quotes to help you emancipate your mind.
"Reality is subjective."
"We tripped on the urge to feel alive."
A list of hippie quotes wouldn't be complete, of course, without a few stoner peace quotes. After all, life, laugh, love – that's the motto!
"Peace, Love, Earth: Every day is earth day."
Simple and understated, this is all the reminder any of us needs that caring about the earth just one day a year is not nearly enough to make a difference. We have to make that choice every day.
"Make love, not money."
Positive Stoner Quotes
If these quotes have your head spinning and you feel like you need a breather, here are a few positive stoner quotes to put you in a good mood.
"Pass joints not judgement."
"A hippy was once asked… What have you gained from smoking weed?"
"The hippy replied… Nothing! However, let me tell you what I have lost…anger, hate, anxiety, depression, insecurity, fear of old age & death."
Stoner Girl Quotes
Being a stoner girl is sometimes a double-edged sword. People either love you for it, or hate you with the intensity of a thousand suns. But that isn't stopping anyone. Here are some stoner girl quotes that prove just that.
"I love getting high. Deal with it."
"So what if being a stoner chick "isn't attractive" and "it's unladylike"?"
"Mommy needs a joint should be just as socially acceptable as mommy needs a glass of wine!"
Stoner mom quotes don't get nearly enough love! And neither do stoner moms.
"I'm a mom who smokes weed. I wish I could say that out loud without being judged."
"For instant happy woman, just add weed."
Ain't that the truth! Just ask any famous stoner girl and she'll be more than happy to confirm.
Cute Stoner Couple Quotes
Many a stoner love quote has been laid on us by everyone, from the casual pothead to the most famous ones of them all. Marley himself gave us several gems about love. Here are a few more stoner quotes about love.
"Smoke together, stay together."
"Our relationship is as solid as a rock and I've never experienced this kind of love." If that doesn't make your heart melt, nothing will!
"It makes for interesting conversations and good laughs."
Stoner couples truly have some of the best conversations. And many of them involve topics that really make you think.
Stoner Quotes That Make You Think About Life
"When the power of love is greater than the love of power, the world will know peace."
That this quote appears to be painted onto a dilapidated old wall, perhaps one that has seen a war or two just adds to its message.
"You weren't born to just pay bills and die."
This one hits different in a post-pandemic era.
"None but ourselves can free our minds!"
Naturally, we must end with the sage wisdom of Marley as he reminds us to take control of our own minds: "Emancipate yourselves from mental slavery!"
"Be a warrior for your own freedom."
Activist Jack Herer's call to action rings true even today. As he once notably pointed out, growing hemp is vital to the survival of our planet. This sentiment is one that is shared across all activists working towards marijuana legalization. Ultimately, the herb isn't just beneficial to individuals – it is just as integral for the environment and to governments who could profit immensely off its sale and the relevant tax.
Until the future where weed is accepted and accessible to all, we can rely on the wisdom and wit of these stoner quotes to keep us going.
Do you have more burning questions around cannabis?
Email us at [email protected] with your questions/topic suggestions and we will get back to you!