Skulls are as much a symbol of death and decay as they are of rebirth and life. And while there are many different ways to incorporate them into your stoner aesthetic, a minimalist simple skull tattoo is easily one of the best.
Photo: Unsplash
Minimalist Skull Tattoo
The best tattoos don't need to be elaborate, nor do they require intense vibrant colors, bold lines, or intricate detailing and shading to stand out. Sometimes, there is beauty in simplicity.
Simple Skull Outline Tattoo
Minimalist designs shed the extra fluff and rely on the simplest details to convey big messages. Despite shaving a skull down to its bare bones – pun intended – this outline tattoo makes quite the statement.
Small Skull Tattoos
Specimen preservation may not be everyone's cup of tea, but for those that enjoy the science of it all, a tiny tattoo of an even tinier preserved skull is certainly inspired.
Skull on Fire Tattoo Idea
Sometimes, your head's on fire and you just gotta roll with the punches.
Galaxy Brain Tattoo
The ever-expanding brain may, sometimes, continue long after the out cushion has eroded away. Nonetheless, a healthy amount of galaxy brain is encouraged when getting high.
Stoner Tattoo Ideas
Of course, if you're really looking to lean into the "stoner" part of a stoner aesthetic, what could be better than a stoner skull?
Single Line Skull Tattoo
For all its beauty, minimalism might seem like an easy feat to people who aren't too aware of what it entails. In reality, the style requires a significant amount of skill and experience, particularly when working with finelines, outlines, and, of course, single-line tattoos.
Teacup Skull Linework Tattoo
Linework, as the name implies, uses lines of various weights to craft exquisite pieces. Most minimalist linework sticks to those basics, but some artists like to play around with shading and detailing while still retaining the aesthetics of a minimalist piece.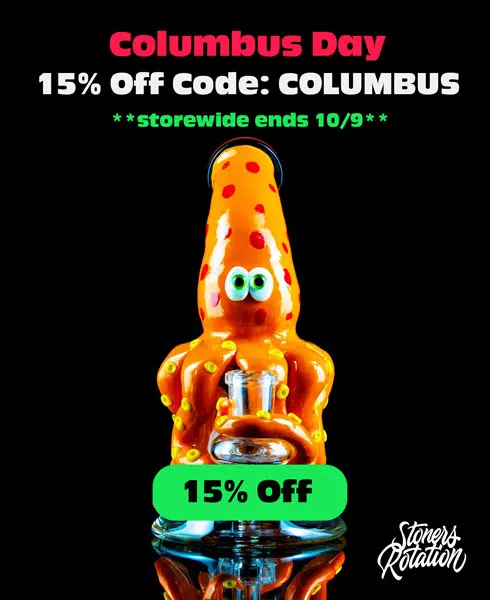 Simple Skull and Rose Tattoo
Skulls and roses are both extremely popular as tattoo designs. While the former represents life and death, the latter can represent everything from passion to obsession. A pairing of the two can, therefore, have some wonderfully wicked and sensual meanings, depending on your unique design.
Simple Skull Finger Tattoo
Despite their propensity to fade a little too fast, finger tattoos remain extremely popular. It's not hard to see why, too. They're stunning and offer an interesting placement for a variety of designs, including the smallest of skulls.
Minimalist Crossbones Tattoo Idea
Crossbones is a symbol dating back to the Middle Ages. They were used to represent death and even featured on tombstones as a memento. They also became inseparable from pirates owing to the use of the symbol on their flags. But even before this iteration of the symbol, similar ones could be seen as far back as Ancient Egypt.
The most similar one was seen on the Tomb of Tutankhamun, which featured a flail and crook crossed beneath the Pharoah's face. The flail was a brutal symbol of absolute authority, while the crook symbolized a shepherd's ability to gently herd animals without harm.
As such, the modern crossbones symbol can represent a variety of things, depending on where you draw your inspiration from.
Arm Skull Tattoo
On the other end of the spectrum from finger tattoos are the arm tattoo: a placement that is perhaps the most common for most tattoos. Skulls, as it stands, are a great choice for any placement – no matter how common or obscure.
Skull and Moon Tattoo
The classic sun and moon tattoos are a symbol of polarity and duality. They are often depicted in the same way as the yin and yang symbol, which also represents something similar. This skull and moon tattoo draws on a similar symbolism, but by replacing the sun with a skull, it offers a new take on a classic.
Girl Skull Tattoos with Flowers
Modern "witchy" aesthetics are extremely popular among stoner girls. Things like skull and moon tattoos are a little more overt in their affiliations. But if you'd prefer to keep things less obvious, you could always try alternate pairings, such as skulls and flowers.
Realistic Skull Tattoos
Symbolism aside, you might be intrigued by skulls just as they are regardless of what they might mean to cultures worldwide. They are fascinating to look at. Anatomically correct tattoos aren't necessarily widespread, yet they are popular and absolutely gorgeous. But not all of them are intricate, detailed pieces. Some are relatively minimalist while still maintaining some level of realism to them.
Glitch Tattoo Ideas
On the other end of the spectrum of realism is this stunning piece that pairs a skull with a choppy glitch effect. With some clever use of bold linework, this minimalist piece manages to look quite detailed.
Animal Skull Tattoo Ideas
Human skulls make for fascinating art. And if you like the minimalist simple skull tattoo ideas in this list, you're going to be as enamored by animal skull tattoos. This particular piece is inspired by cat skulls and is as mesmerizing as it is minimalist.
Bull Skull Tattoo Minimalist
Bulls represent power and strength, often associated with fearless go-getters. Pairing this symbolism with skulls is a pretty solid way to demonstrate your tenacity in the face of human mortality.
Funny Skull Tattoo
While they are far more embedded in the macabre genre of things, skulls can also offer comedic gold. There are plenty of hilarious designs out there that feature skulls, but this one manages to find that perfect middle ground between funny and dark.
Smoke Tattoo Ideas
Among skull tattoos, smoke skulls are quite popular. Smoke tattoos allow artists to create trippy images within a puff of smoke. These pieces always turn out to be quite riveting, often appearing as if the smoke is gently dancing to create the images we see.
Grim Reaper Skull Tattoo Designs
Grim Reapers make for excellent tattoo designs. They are creatures tasked with collecting souls after people's deaths. This has earned them a bad rap, with many thinking they are evil. In reality, the reaper is a neutral force, simply doing what must be done without prejudice.
As such, a reaper tattoo might be a wonderful way to remind yourself to do what you need to, even when the going gets tough.
Black and White Simple Skull Tattoo
The blend of simple linework and minimalist blackwork often results in some of the most alluring pieces of art. With a touch of romance and plenty of drama, such tattoos are impossible to look away from.
Less Is More
Tattoo styles offer an array of choices. Every aesthetic and every artistic vision finds representation in the world of ink. Each has something to offer, and a minimalist simple skull tattoo offers effortless dramatic flair.
Do you have more burning questions around cannabis?
Email us at [email protected] with your questions/topic suggestions and we will get back to you!