President Donald Trump's reelection campaign has issued a 'cease and desist' order disassociating itself from Mississippi pro-medical marijuana activists.
Feature photo source: Flickr.
The letter addressed to Mississippians for Compassionate Care barres them from using Trump's 'name, image or likeness' in their race to legalizing medical marijuana at the ballot come Nov. 3.
"President Trump has never expressed support for Initiative 65, and his campaign demands that you immediately cease and desist all activities using the President's name, image or likeness in support of the legalization of medical marijuana in Mississippi," read part of the letter addressed Mississippians for Compassionate Care.
Mississippians for Compassionate Care and Medical Marijuana Legalization
Mississippians for Compassionate Care is the group that spearheaded the campaign to get initiative 65 on the ballot next month. They qualified by getting a total of 105,686 certified signatures from Mississippi-registered voters.
"We are beyond excited to share that the Secretary of State has officially qualified Ballot Initiative 65 to be on the November 2020 ballot! Patients in Mississippi who suffer from qualifying debilitating conditions (cancer, epilepsy, and Parkinson's disease to name a few) are one step closer to having access to a treatment option that patients in 34 other states are receiving relief from," they wrote on their Facebook page earlier this year.
What Triggered the Reaction From Trump's Campaign?
President Donald Trump's reelection campaign was triggered by Mississippians for Compassionate Care mailers which encourage voters to "join President Trump and 3 out of 4 Mississippi Republicans who support medical marijuana" and point out that he's voiced "complete support for medical marijuana."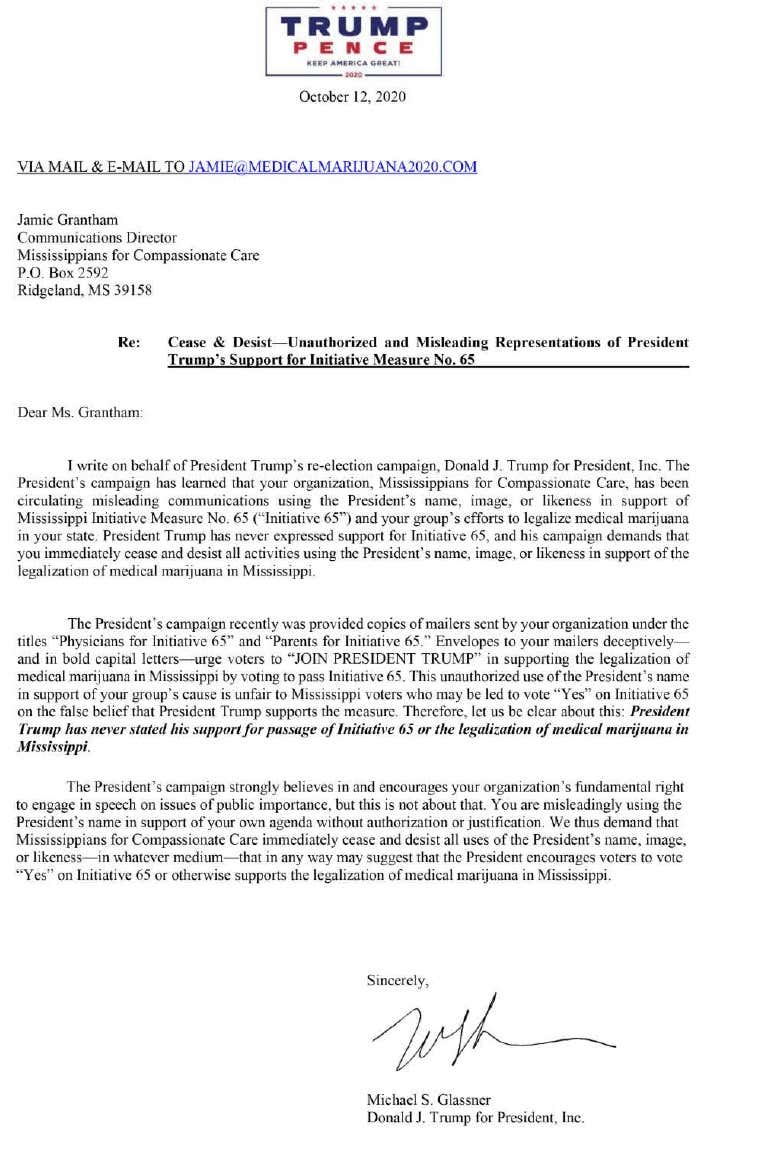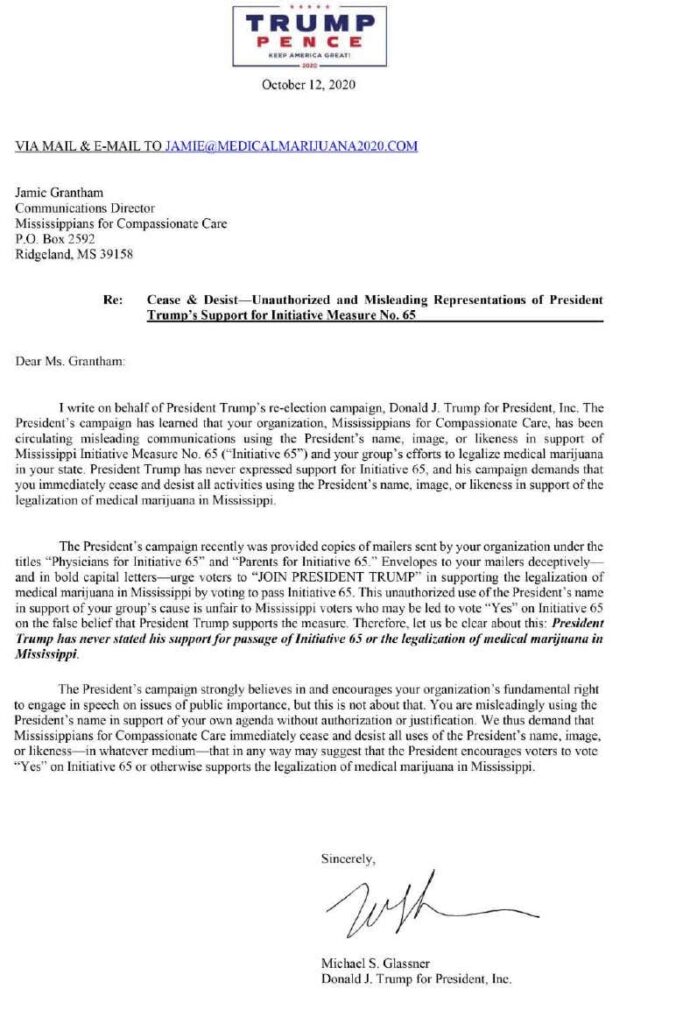 Mississippians for Compassionate Care Respond To Trump's Letter
Coming to their defence, Jamie Grantham, Mississippians for Compassionate Care Communications Director stated that they only shared direct quotations by Trump from his previous campaign trails.
"President Trump has clearly stated on multiple occasions that he supports medical marijuana. That is all that we've shared – the truth," he said. "The politicians and bureaucrats behind Mississippi Horizon clearly orchestrated this letter from the Trump campaign. It's just the latest example of the lengths to which they will go to prevent any form of medical marijuana in Mississippi. President Trump himself has said he supports medical marijuana and is letting the states decide. Initiative 65 is the only plan on the ballot that will create an actual medical marijuana program in Mississippi."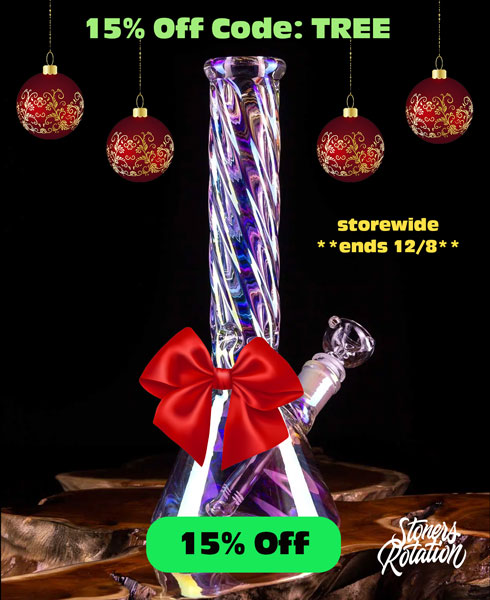 Marijuana Legalization in the 2020 Elections
With the elections right around the corner, Marijuana legalization is the hot topic of the season.
Mississipi is among the states looking to join the 33 others who have already legalized medical marijuana come Nov. 3.
President Donald Trump's Stance On Medical Marijuana
President Trump's stance on the legalization of marijuana has sent mixed signals in various instances.
While he has not instigated a war on drugs since getting into the oval office, his support for modest reform legislation appears to have an on and off switch.
Interestingly, Trump has on many occasions in the past supported the legalization of marijuana.
His latest move with the Mississippians, however, is an example of the hostility of his administration towards implementing pro-marijuana actions.
President Donald Trump Supports Bipartisan Bill
Just two years ago, President Trump gave his unwavering support of the bipartisan bill filed by Sens. Cory Gardner (R-CO) and Elizabeth Warren (D-MA), which would allow states to set their own marijuana policies.
Donald Trump Supports Legalization of Marijuana
During a rally in Nevada back in 2015, Donald Trump expressed his support for the legalization of cannabis at a state level.
"I think medical should happen, right? Don't we agree? I mean I think so. And I really believe we should leave it up to the states, it should be a state situation," answering a question posed by a person in the crowd.
He even went ahead to give a testimonial of all the people he knows medical marijuana has helped.
"I know people that are very, very sick and for whatever reason, marijuana really helps them."
Trump reiterated these sentiments the next year during an interview on Fox News, professing that he is '100% in favour' of medical marijuana.
Trump's Cease and Desist Letter and Initiative 65
The activist-led campaign otherwise referred to as Initiative 65 champions for access of medical marijuana to terminally ill patients.
After gathering so many votes to qualify Initiative 65 for the ballot, Mississippi marijuana activists and supporters will have to wait until votes are cast in November elections to know the effects of Trump's cease and desist letter on their campaign.