Just like your watch or shoes, a lighter holder can be a reflection of your personality and style as a stoner. Using a lighter leash or keychain also makes it that much harder to lose, which every stoner can relate to. From custom lighter holders to retro lighter keychains, getting the right one can brighten up your entire collection of smoking accessories while serving a greater purpose: to never get lost again. If you're contemplating the best gifts for stoners, the following lighter holders, keychains and leashes are some of the most useful, stoner accessories available.
Photo: Pexels
Unique Lighter Keychains, Holders & Leashes for Stoners
Toker Poker Lighter Case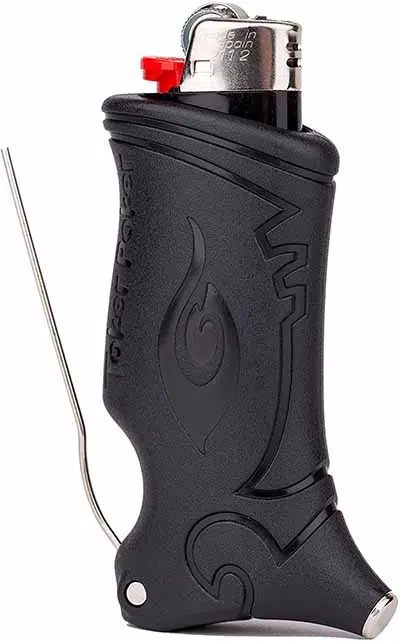 Who says you can't eat your cake and have it? With this lighter holder, you certainly can. This toker poker lighter case is a super-packed premium all-inclusive tool for stoners. By including a poker, a lighter sleeve, hemp wick, and a tamper, this is a stoner's delight. Whether you need to vape, dab, roll, or toke, this lighter sleeve has all you need. The Toker Poker lighter case is available in three editions; Glow in the Dark, Metallic, and Candy Dipped editions.
Hemp Wick Lighter Sleeve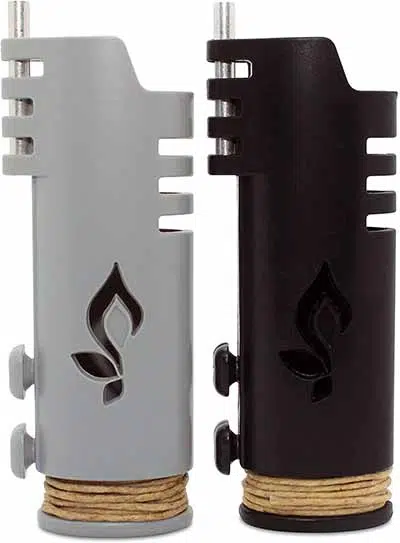 This hemp wick lighter sleeve will revolutionize your experience as a stoner. Carrying your hemp wick lighter on its own can look a bit odd considering that your wick is exposed. However, a lighter sleeve like this one can help you protect your wick while maintaining a sleek style. If you enjoy having a burn-free experience, this hemp wick lighter sleeve is for you. This lighter holder comes in multiple colors to suit your style and personality. It's also user-friendly and won't break the bank.
Stainless Steel Lighter Bro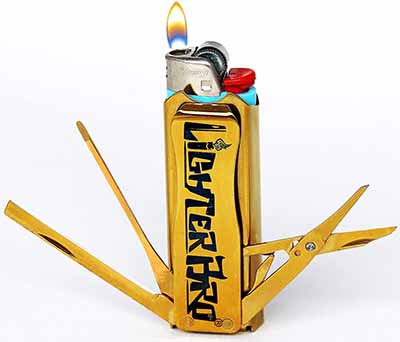 The stainless steel Lighter Bro is a multipurpose party tool for stoners. Picture a single tool that allows you to cut through packaging, light up your herb, tighten the screws on your eyeglasses and crack open a beer. This lighter holder keychain essentially prepares you for anything. Besides the appeal that this lighter sleeve provides, it includes scissors, a micro screwdriver, a mini knife and a sleek bottle opener.
Whether you're partying or on a survivalist retreat, the stainless steel lighter bro offers immense value. It can be the ideal tool for stoners who love spontaneity. Imagine having to cut a slice of lemon at a party and there's no knife around? The bottle opener is also designed for use with one hand. Getting this means you can still hold a joint while opening a brewsky with the other hand. Interesting, right?
Pot Leaf Lighter Holder Keychain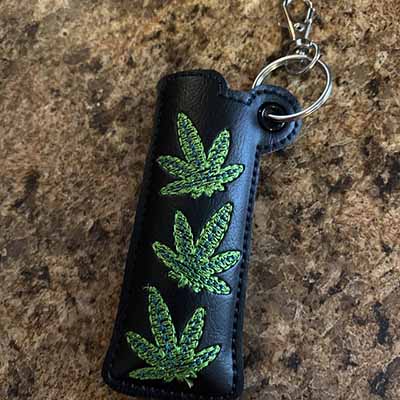 Another great gift idea and smoking accessory for stoners is the pot leaf lighter holder keychain. If you need a BIC lighter holder with a unique personality, this is a great option. It latches perfectly onto BIC lighters and is ideal for people who are constantly on the move. This lighter holder keychain includes a swivel clasp and is designed to the highest quality. The clasp ensures that you can simply clip it on your belt hole and never have to worry about losing your lighter, ever again! Machine embroidered cannabis leaves, a key fob, a swivel clasp, and a choice of colors are some of the reasons why this is a great stoner accessory.
Custom 3D Printed Lighter Holder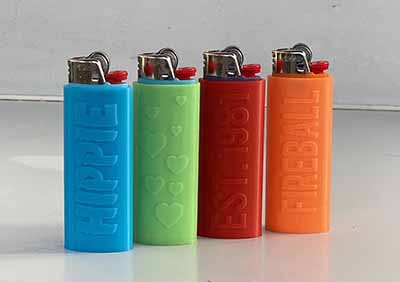 If you're looking for a lighter sleeve without any distractions, this custom 3D printed lighter holder is an ideal choice. Available in multiple colors including black, purple, and pink, this lighter sleeve is designed to bring your lighter to life. Its vibrant look and feel will certainly spice things up for any stoner. You don't have to stick to your boring lighter, get this custom 3D printed lighter holder for your family and friends, or even coworkers. We're pretty hyped up about this for its unique design and affordability.
Custom BIC Lighter Holder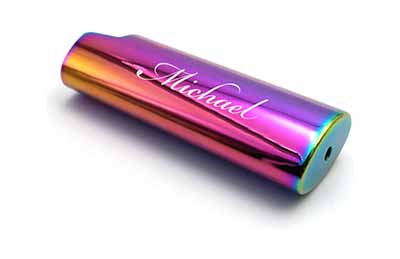 This is another stoner accessory we think stoners would love. Like Optimus Prime transforming into a truck, this custom BIC lighter holder will make your standard lighters look premium. If you choose to use this personally, you'll find satisfaction from the renewed and slick feel that the metal casing provides. Also, this can be a great gift for stoners who want something unique and personalized that reflects a tasteful personality.
It can also be a great confidence booster. Picture sliding this lighter sheath out to help another stoner. This beats any pickup line you can imagine. Did we forget to mention that you can have a custom message printed on this lighter holder? Well, there you go. You can even surprise the stoner bae in your life with an engraved love note, Romeo.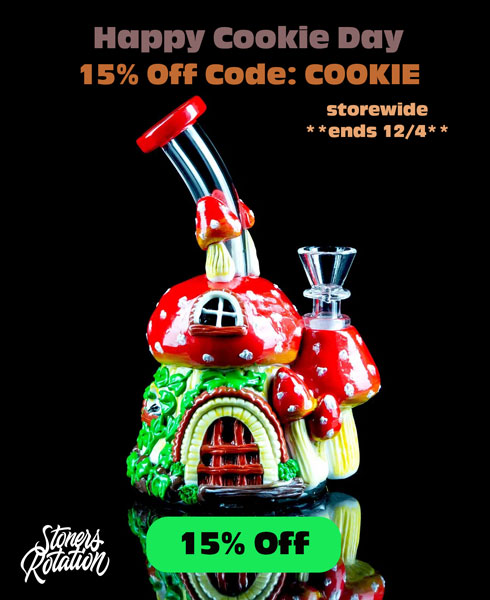 Vintage Custom Lighter Holder
There aren't many lighter holders that can save lives but this is one of them. Well, not literally. This vintage custom lighter holder is a great gift idea for spouses who need to commemorate special dates. For instance, many people have bought this lighter holder and engraved their wedding dates or their spouses' birthdays.
Made from brass from the 1980s, this 40-year-old vintage lighter holder is a treasure to behold. You can have both sides of this lighter sleeve engraved with a custom message or even a date. Nothing beats gifting your groomsmen or fellow stoners this essential smoking accessory. It instantly make your special events or dates more memorable.
TikTok Crochet Lighter Holder Necklace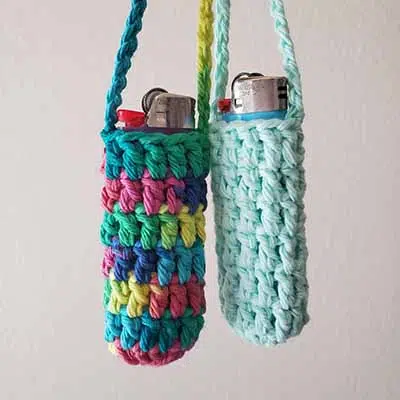 Tired of losing your lighter? The TikTok crochet lighter holder necklace solves this problem and more. Made from high-quality eco-friendly material, this lighter leash will keep your vape or BIC lighter closer to your heart at all times. You may also choose to hang this in your rearview mirror, or around your wrist, this will make an excellent addition to your 420 accessory collection. It's easy to maintain and comes with washing instructions too.
Retro Crochet Lighter Holder Keychain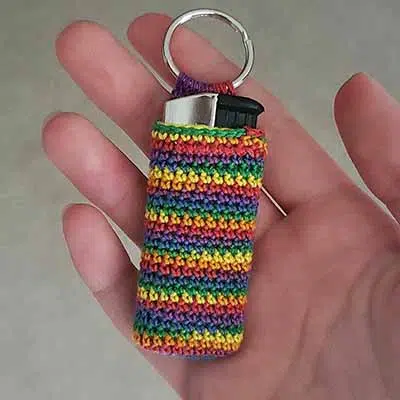 Ready to take a trip down memory lane? Look no further. This retro crochet lighter keychain will blow your mind away. It includes a lighter sleeve and keychain to ensure you never lose your lighter again. This lighter holder was handmade with love and includes a keyring, a clasp, and is available in multiple colors. Get this for your better half or fellow stoner and watch them smile from ear to ear.
Crochet Mushroom Lighter Holder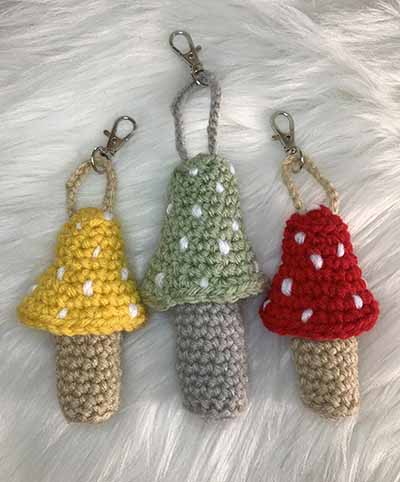 Everyone thinks the mushroom lighter holder is super cute and we think you would too. This crochet lighter sleeve is available in mini and regular size options and multiple colors. It also features a lighter keychain hook to allow you to latch your lighter onto a necklace, lanyard, or even your belt hole. It's even more exciting that you can customize your crochet mushroom lighter holder based on colors, spots, and size.
Mushroom Lighter Leash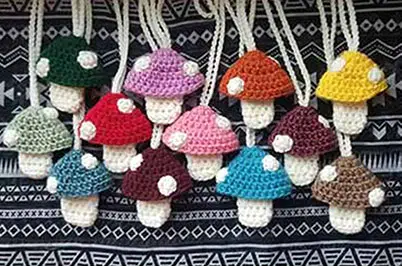 This mushroom lighter leash is a festival goers' favorite. It is carefully designed to include a sleeve that holds regular-sized BIC lighters, and the mushroom canopy to serve as cover. With this lighter necklace, you'll never have to bother about losing your lighter at a party. You could get this for your friends as it comes in multiple colors and can include a keyring or clasp if you'd prefer to latch it onto your belt hole. Talk about the essential party accessory. Lest we forget, it costs next to nothing to get this lighter holder.
Pot Leaf Lighter Keychain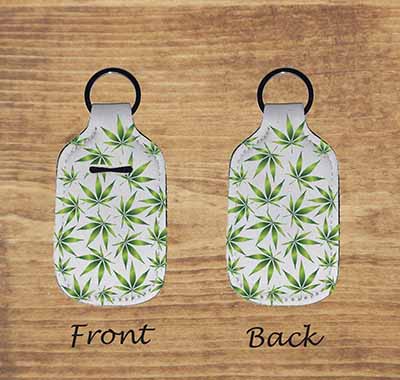 Protect your lighters with this carefully crafted pot leaf lighter keychain. This lighter holder features a fabric leash with marijuana leaves printed all over it. It's easy to wash and designed to last as long as possible. If you want, you can have custom designs printed on it too. This pot leaf lighter holder includes a keychain that can easily be strapped to your car keys or further attached to a clasp. Get this essential smoking accessory to extend the lifespan of your lighters.
Lanyard Clipper Lighter Leash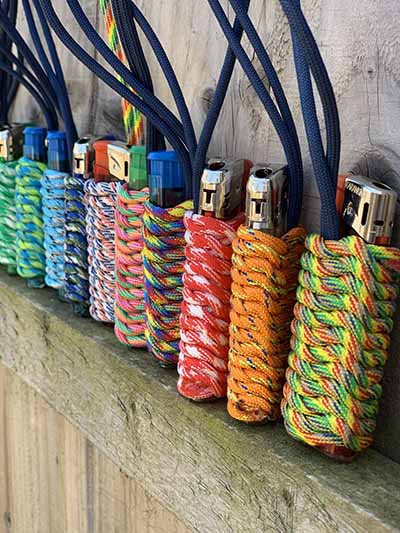 Imagine hosting the next smoke sesh and having to look out for who's got the lighter. Or, you could simply have this lanyard clipper lighter leash across your neck. Even better, you could gift this lighter holder to a couple of your buddies and simply make it available for use whenever needed. This lighter leash is handmade and includes a lighter and carefully woven lanyard case. With multiple colors available, you can really spice things up with this lighter holder.
Leather Pot Leaf Lighter Sleeve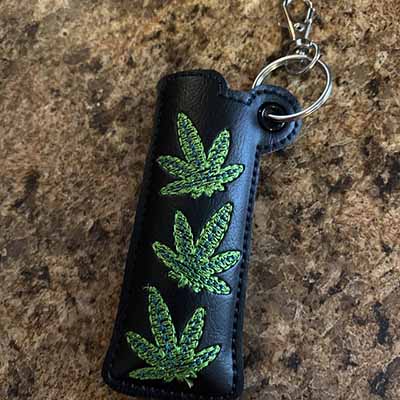 Imagine pulling out this sleek pot leaf lighter holder from your pocket and showing off the smooth leather case with the pot plant on one side and your initials on the other. You might as well change your name to James Bond 007 because there aren't many cooler lighter holders in existence.
Photo Custom Lighter Sleeve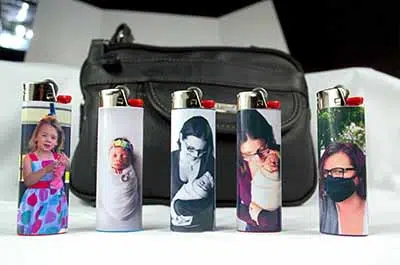 You've just returned from holiday with your best friend. Hundreds of pictures and memories but you still feel like something's missing. Get this photo custom lighter sleeve using one of those amazing pictures and remember to thank us later. This is essentially a photo wrap that you can easily apply to your lighters. It can be a great way to mark events like graduations or the birth of a baby, or just about any photo you really like.
Floral Metal Lighter Sleeve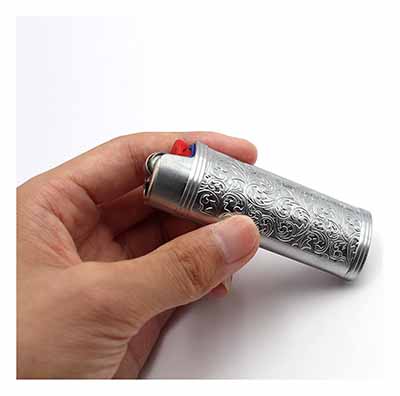 This floral metal lighter sleeve showcases the best of craftsmanship and will be a great addition to any stoner's collection. The lighter sleeve is an ideal fit for regular-sized BIC lighters and is available in multiple colors. We personally love the gold option and think it would make a great gift for anyone who appreciates luxury.
Never Lose your Lighter Again
These 15 cool lighter holders, keychains and leashes for stoners are bound to offer inspiration if you're considering gift ideas or want to grab one for yourself. There's nothing more essential than having your lighter in a safe place, on you at all times so you never lose it again.