It doesn't take much to craft a magical winter. Soft, warm, sweet pastries paired with homemade eggnog. A cozy chair with a blanket and a heating pad. A looped video of a crackling fireplace. And, of course, a handy tutorial on how to make a weed hot chocolate. Grab your designated christmas bong and let's get brewing.
Photo: Unsplash
How to Make Easy Weed Hot Chocolate
There are a million different ways to brew a weed hot chocolate. Good hot chocolate does not need to include a long list of steps. Nor does it need to leave you with a massive grocery list and a gaping hole in your wallet.
A tasty hot chocolate can be fashioned out of a few readily available ingredients, so long as you know what to do with them.
To make a standard weed-infused hot chocolate, you'll need:
Milk
Chocolate chips OR powdered cocoa powder
Decarbed, ground cannabis buds OR pre-powdered THC
Optional: whipped cream, marshmallows, sprinkles, and a flavor of your choice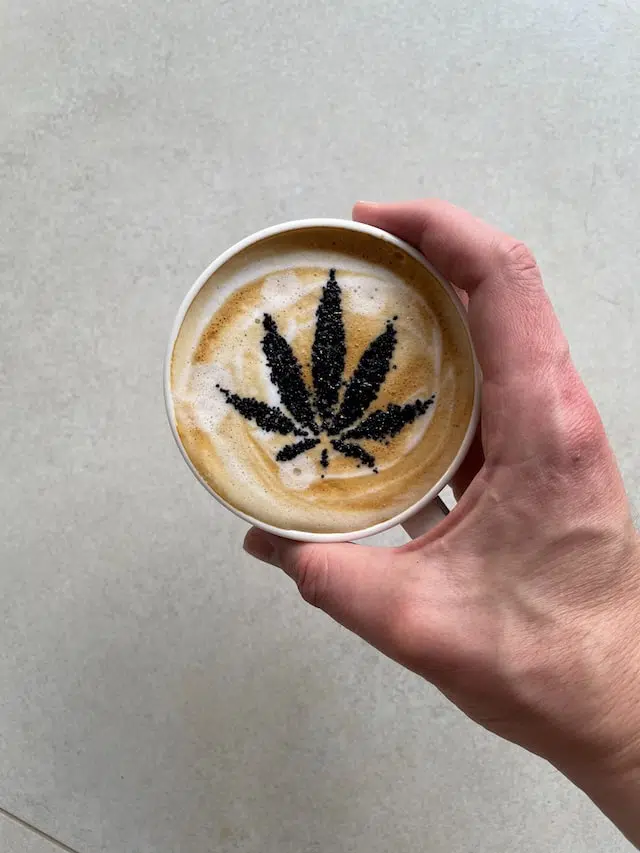 Now that you've got your ingredients together, it's time to learn how to make weed hot chocolate. Heat up your milk in a saucepan, Don't let it boil. Add your weed in, simmering it on a low flame and stirring constantly.
Next, add your chocolate. Make sure everything is mixed in, nice and smooth. Finally, add a flavor of your choice for some extra goodness. Serve hot, with add-ons of your choice.
Brewing a Perfect Pot Chocolate
If you've got some extra time on your hands, you can try brewing a weed hot chocolate that is more potent.
To make your weed-infused hot chocolate, you'll need the following:
1-2g decarbed, ground cannabis flower
2 tablespoons unsweetened cocoa powder
1 cup full fat or half-and-half milk (or a substitute of your choice)
1 teaspoon of butter or oil (optional, but highly recommended)
Sugar (or a substitute of your choice), to taste
Add-ons of your choice
The quickest way to brew it is to first whisk the dry ingredients together, then add them along with the milk into a saucepan, as well as oil or butter if you're using some, and continue whisking till completely mixed.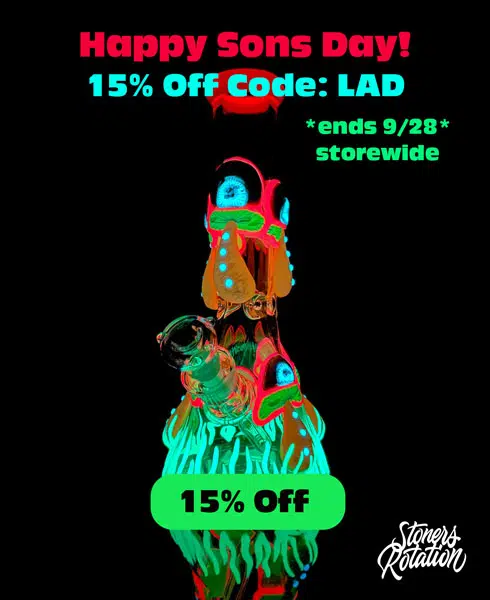 The oil is, as mentioned, optional. But it is highly recommended, as it ensures you get the most out of the fat-soluble cannabinoids in your weed. If you're not using oil or butter, make sure your milk is whole fat or half-and-half so it adds some fat content to your brew.
Heat up the mixture over a low flame until it hits about 170-180°F. Don't let the mixture boil, as excess heat will reduce the effect of the THC in your weed.
And that's it. Your hot chocolate is ready to serve.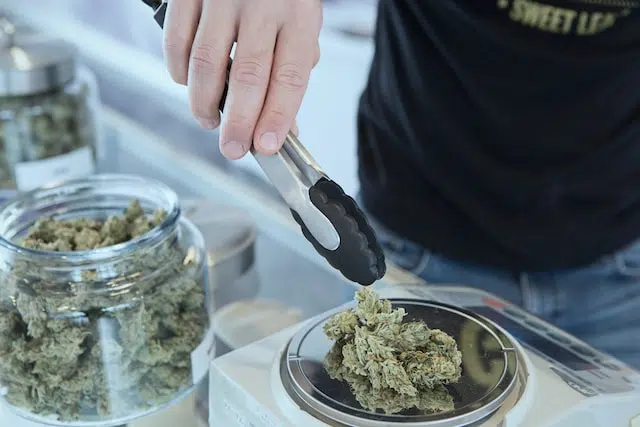 The measurements here are more of a guide than a hard-and-fast rule. This will give you a nice, balanced flavor. But you could always experiment with the blend till it suits your taste.
How much weed you use will depend both on the strain you're using and how much THC it contains. Additionally, how much sugar you use will depend both on your taste as well as whether you use unsweetened or dark chocolate or not.
How to Make Weed-Infused Hot Chocolate
Some stoners like to pre-mix their hot cocoa for an easier brewing experience. You can do this one of two ways. One method is to make a cocoa mix using dry ingredients, so it's easy to just boil it in milk when you're ready.
Another is to infuse the milk with cannabis and add cocoa to it when you're ready to brew. This can be pretty potent, so make sure to follow the instructions closely, at least the first time around.
Once your CannaMilk is ready, you can brew it with any cocoa of your choice just as you would a regular hot chocolate.
Dairy-Free Weed Hot Chocolate
If you're lactose intolerant or just don't enjoy milk, you can still enjoy a good pot chocolate.
The process remains more or less the same, but you can simplify it further. Start by heating up some water. Add oil or butter to this, and once melted, reduce the flame to a simmer. Add your weed in. Let it infuse its goodness into the brew.
Once ready, strain your mix and set aside. Add some chocolate chips or cocoa into a mug. Pour in your brew, mix well, and top it off with add-ons of your choice.
Spiced Weed Hot Chocolate
Add more flair to your hot chocolate by incorporating some spicy goodness into the mix. A good place to draw inspiration from is chai, which often includes a few different spices. Which ones you choose will ultimately depend on your taste, but some good options include cinnamon, nutmeg, cardamom, and ginger.
The traditional method of brewing involves combining whole spices in boiling water to infuse it with the maximum flavor. To strengthen the flavor, these whole spices are ground into powders or pastes using a mortar and pestle before infusion.
While this approach will give you an incomparable flavor, it can be a bit tedious. For a contemporary approach that is less time-consuming, buy pre-powdered ingredients.
To make your spiced weed hot chocolate, you'll add your weed to milk that is being gently warmed up. Add your spices and some coconut oil, and simmer on low heat, stirring continuously and making sure it does not boil over.
You could opt for a slow cooker or crockpot that allows you to control the temperature better. In this case, you can leave it to simmer for much longer, drawing out more flavor.
Whichever method you choose, you'll find yourself in heavenly bliss after the first sip of your hot chocolate.
Utterly Butterly Delicious
Another way to brew your weed hot chocolate is by going the Bulletproof route. This involves mixing CannaButter or Canna Oil into a freshly mixed cup of hot cocoa. A bonus with this method is you can find a wealth of information out there on how to adapt it to suit a healthy lifestyle, including keto alternatives.
Brew your hot chocolate as you would normally. Allow the mix to cool a little. Not only will this prevent burning your THC out, but it will also be safer to blend. Add half a teaspoon of your chosen form of cannabis into the mix and, using a handheld blender or frother, give it a good mix till it's completely smooth.
For an extra touch, toss in some marshmallows, chocolate shavings, a cinnamon stick, or any other addition of your choice.
Christmas in a Cup
Take your weed chocolate to the next level by blending the fullness of milky cocoa with the flavor of your favorite holiday season lattes.
You'll need the following ingredients:
200ml whole milk
120ml light cream (optional, for a thicker brew)
1 teaspoon coconut oil (optional, but highly recommended)
4g of decarbed, ground cannabis bud
85g of unsweetened cocoa powder
½ teaspoon of vanilla extract
5 teaspoons of brown sugar (or an alternative of your choice)
A pinch of cinnamon
Optional: Marshmallows, cinnamon stick, sprinkles
To prepare your hot chocolate, begin by mixing your milk and sugar in a saucepan over a low flame. Keep stirring, until the sugar is completely dissolved.
Next, add in your cannabis and cream, as well as oil and water if you're using them. Heat the mix slowly, stirring frequently. Bring it up to 170-180°F, making sure not to let it boil. Anytime the temperature gets too high, turn the heat all the way down or off while continuing to stir.
Finally, add in your vanilla extract and cinnamon. As the mix thickens, keep an eye on it so doesn't get too heavy. When it's the right consistency for you, pour it into your cups, toss in your extras and add-ons, and serve.
Much like with the previous brews, you can play around with proportions to get the flavor you want. This recipe makes a much larger batch, so it works perfectly for a nice, cozy gathering around a fireplace as you jive to Mariah's best Christmas tunes.
How to Make Weed-Infused Hot Chocolate Bombs
As fun as it may be to try different ways to brew a traditional hot chocolate, you might find yourself in the mood to get really fancy with it. This may be your creative spirit talking. Or it could just be that premium hash you just smoked giving you some wild ideas.
And wild this recipe certainly is. It isn't for the faint of heart, however. You'll find yourself in need of a few non-standard kitchen tools and ingredients.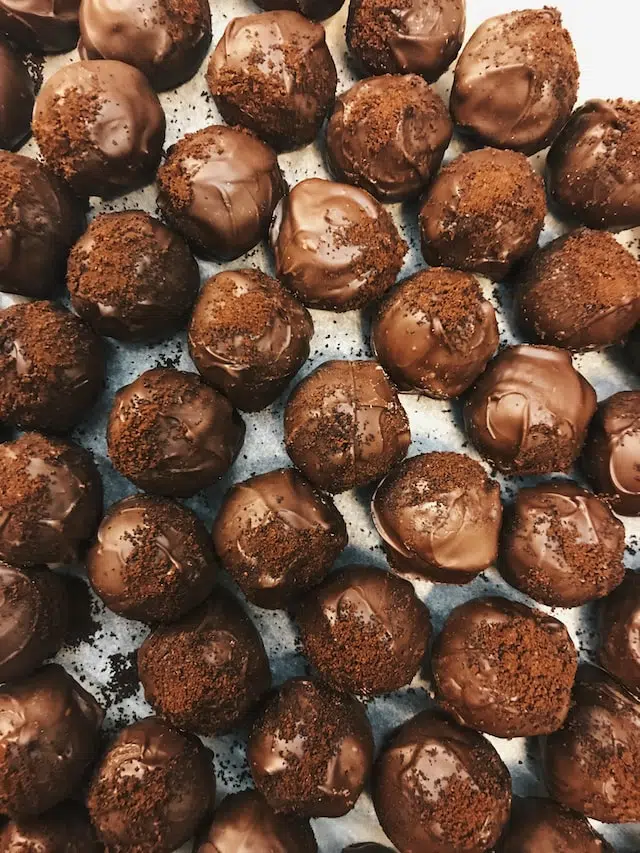 For this reason, it might be better to turn this into an activity with your stoner squad. Pool your resources together, including your tools, and craft a decadent brew that is sure to knock the socks off everyone at your party.
The Proof is in the Pot Chocolate
If there's one thing we know, it's that there's no wrong way to make a pot chocolate. Stoners everywhere have been crafting their own recipes for decades. Each has its own little flair.
No matter which method for how to make weed hot chocolate you use, you're going to end up with a drink that'll have you floating sky-high.
Do you have more burning questions around cannabis?
Email us at [email protected] with your questions/topic suggestions and we will get back to you!