There's no denying the unique joy that goes with a good psychedelic thrill. And if there's one thing that can really get you tripping, it'll be one of the many glow-in-the-dark gifts for stoners we happen to have floating around these parts.
Photo: Stoners Rotation
Glow in the Dark Flower Bong
We have to start a list with a bang, and this flower bong is most definitely a showstopper. Its luminance might be the biggest draw, but it has a lot more to offer than its glow alone.
The handpainted flowers and weed leaves make each piece unique and make this piece a standout even in the daytime. At 7mm, the thick glass not only accentuates the bong's glow but also makes it pretty durable.
The combination of the ice catcher at the base of the neck and a large beaker base also allows for smoother, larger hits with no splashback. All-in-all, this piece offers both beauty and functionality which makes it one of the best glow-in-the-dark gifts for stoners out there.
Glow in the Dark Skull Bong
The perfect blend of aesthetics and usability is, naturally, the ideal. But what if you could add a third layer to your piece and have it heighten your high?
This trippy bong gets progressively more psychedelic as the night progresses. Especially so right after you take the biggest hit of the night.
Glow in the Dark Jellyfish Bong
A fun thing about jellyfish is that in some cultures, they represent simplicity and flow. They're all about coasting through life, taking the path of least resistance. And if there's one thing this bong gets right, it's the spirit of what jellyfish represent.
Fitted with all the standard essentials that make up a bong, this is the piece you reach for when you want a reliable hit. And with its trippy glow and glass that acts as a viewing window into the filtration process, this piece will keep you floating all night long.
Cactus Bong With Glow in the Dark Spikes
This desert-themed bong is a certified stoner wishlist essential. Like the Flower Bong, this piece comes with a 7mm glass that makes it durable, but it also has an additional clay layer that ensures your bong stays safe even on longer travels and outback adventures. When it comes to glow-in-the-dark gifts for stoners who happen to enjoy traveling and camping, you can't go wrong with this durable bong.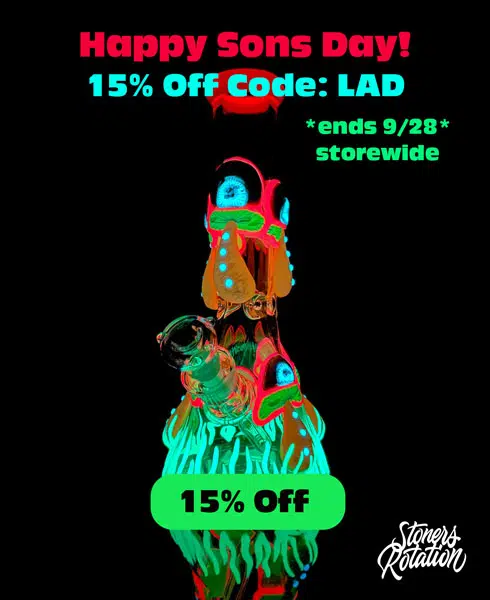 Gold Fox Bong With Glow in the Dark Eyes
If quirky and unusual pieces are more your speed, then you'll fall in love with anything in our mushroom collection. But this fox bong is a particularly special one.
Each part of the fox's anatomy is shaped into this 3D hand-painted bong. And it truly comes alive with the glow-in-the-dark eyes that resemble the cap of an Amanita muscaria mushroom head.
Its showerhead perc offers beautifully filtered smoke, yet is also sturdy and easy to clean. The bong's bent beck acts as a natural splashguard.
All up, this bong is as smooth and playful as its namesake.
Glow in the dark Pink Mask Bong
Where the mushroom collection delivers a cozy, familiar comfort, the pink collection offers a chic aesthetic that'll have you hooked from the get-go. After all, is there anything cooler than this pink mask bong?
Functionally, this mask delivers hits as good as a regular water pipe. The mask is made of acrylic and comes with a detachable acrylic water base bubble pipe, making this seemingly-complex piece easy to take apart, clean, and put back together.
But what really sells it is its glow, of course. Picture it – you walk into a sesh with a glowing gas mask on your face, and spend the night mingling and hotboxing all at once. It doesn't get much better than that.
Glowing Rick and Morty Silicone Pipe
A stoner collection is incomplete without a Rick and Morty piece, and this pipe hits the mark on every level.
The food-grade non-stick silicone makes it portable and extremely easy to clean. That means you can bring this bad boy with you to your next smoke sesh, no matter where it may be happening.
Silicone Cheshire Cat Glow in the Dark Pipe
If psychedelic pipes are up your alley, then this Alice in Wonderland piece is an absolute must. The cat is notorious for its creepy smile. So, naturally, making its pearly white glow is the best way to up the ante on a classic.
One hit off this and you'll be flying high in more ways than one. And when you see the Mad Hatter doing the Futterwacken, be sure to put your best foot forward and join in too.
Glow in the Dark Monster Dab Rig
Speaking of glowing cats, you're definitely going to want one of these monster dab rigs in your collection.
This mini rig has all the essentials to give you a smooth clean hit, including a single showerhead perc designed to cool and filter the smoke before it delivers the ultimate hit. And once it delivers, you're in for the ride of your life – because what follows is a monster trip.
Glow in the Dark Bubble Carb Cap
When it comes to incomparable highs, very few things come close to a dab done right. And while there are many ways to dab, a carb cap is definitely an accessory that's going to elevate your experience like never before.
The only thing that could make it even better? Having this magical bubble carb cap to transport you straight into the fantasy of your dreams in just one hit.
Glow-in-the-dark Pokéball Dab Container
A quality dab setup is essential for the best high. And it does not hurt in the least to have some accessories to tie up loose ends and make sure you want for nothing more at your next sesh.
This 5ml concentrate container has a secure lid, so you don't have to worry about spilling your stash. They're also durable enough to retain their shape if you happen to drop one. And, just like all the other silicone pieces in our collection, they're super easy to clean.
The fact that it is Pokémon-themed is the icing on the cake.
Say It With A Glow
Of the many love languages, quality time is as common as gift-giving. Where the latter has you offering something extremely personal and well-thought-out, the former offers your own time and energy as the gift itself.
With these glow-in-the-dark gifts for stoners, you can give your loved ones a bit of both. After all, the best way to use a gift like this is to hang out, get a few good rips in, and watch the magical glowing lights dance all around you.
Do you have more burning questions around cannabis?
Email us at [email protected] with your questions/topic suggestions and we will get back to you!