Top 10 trippy shows on Netflix
Crazy. Surreal. Weird.
These are some top adjectives that come to mind when we think about trippy shows.
Trippy shows are the ones that make us travel to a different reality without ever leaving our couches. They can have un surreal landscape, a mystery plot, a weird atmosphere, crazy and unimaginable scenes.
However, this is not a scientific definition. It's something subjective and personal; each stoner can create their own definition.
Netflix thousands and thousands of trippy movies and shows in their catalog. If you are a fan of all things trippy, this one's for you.
Don't worry, we've shortlisted some of the best Netflix trippy shows. All you have to do is take a rip from your best dab rig and chill.
Photo: Pexels
Happy! (2017-2019)
You've gotta be tripping to follow this plot. Are you ready?
A young girl is kidnapped by someone who looks like Santa Claus.
There are only two people that can help her: her imaginary friend, a blue unicorn, and an alcoholic ex-cop turned hitman.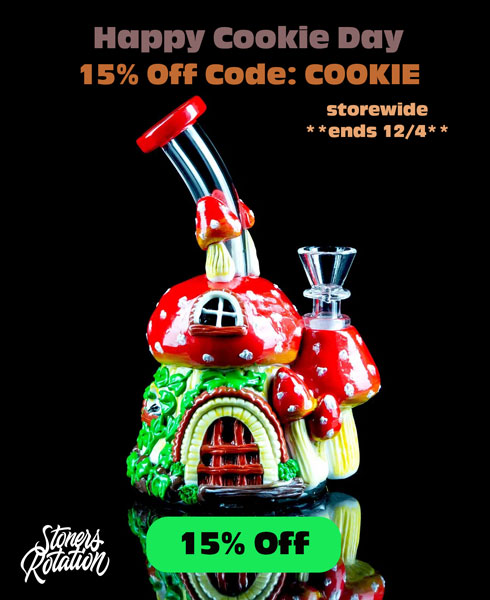 Seems realistic, right?
Love Death + Robots (2019-present)
This hypnotic animated show grapples with eighteen thought-provoking stories about love, death, and robots. It mixes scary creatures, dark humor, and creepy surprises that will change your perspective about robots.
Friendly advice: this show can trigger paranoia for robots depending on how stoned you are.
Oh, before I forget! This is a show about robots.
The Midnight Gospel (2020-present)
In this sci-fi cartoon thr main character is a podcaster named Clancy (so far so good) that explores psychedelic and surrealist scenarios. He travels through different dimensions to interview strange creatures about life, death and all that goes in between.
The episodes usually end with an apocalyptic event from which Clancy needs to escape. It's impossible not to be hypnotized by the insane graphics.
Wormwood (2017)
Wormwood is a dangerous cocktail of conspiracy theories, LSD, lies and the CIA.
This docu-series investigates the possible murder (and cover-up) of Frank Olson.
He was a scientist involved in the Cold War program known as MK-Ultra, which employed drugs and deception tactics and he was ready to reveal USA government secrets.
Something weird happened though, when he mysteriously fell from his hotel window.
BoJack Horseman (2014-2020)
This animated comedy is a must-watch. The story takes place in a world where anthropomorphic animals and humans live side by side.
This alone is a good enough reason for BoJack Horseman to enter the list, but there is more.
The main character BoJack, a washed-up, depressed, cynical, narcissistic, self-destructive and self-loathing, alcoholic former celebrity struggles to regain his career and dignity with the help of a human friend and his feline ex-girlfriend.
Oh, before I forget: BoJack is a humanoid horse.
Floor is Lava (2020-present)
Remember that game that you used to play when you were a kid, hopping from One piece of furniture to another without ever touching the floor? Well, now that is a Netflix game show. The difference is that now the floor is… LAVA.
Impossible not to watch and laugh as contestants try to make their way through slippery obstacles and avoid falling in the lava.
Just don't trip too hard, stoner!
Dark (2017-2020)
This disturbing, intriguing and complex plot takes us through a journey to unravel the mystery behind a missing child and shows how the lives of four families are weirdly connected over generations.
Can't say more than this without giving a spoiler. You'll just have to watch to discover how deep the craziness goes.
This show will definitely make you trip.
Maniac (2018)
Two problematic strangers create a strong connection during an interdimensional drug trial.
What seems to be a simple trial with no side effects turns into a psychological dark comedy-drama with a visually complex and mind-bendy narrative.
This is trippy multi reality shenanigans. What is real and what's not? Try and find out.
American Vandal (2017-2018)
Fear. Corruption. Betrayal. Truth. Lies. Dicks?
All this is jam packed in this mockumentary that shows the high cost of a high school prank where 27 faculty cars were vandalized with a phallic image.
An investigation to unravel the truth behind the crime was conducted. The question is: Who drew the dicks?
Russian Doll (2019-present)
In this comedy-drama mystery, Nadia tries to celebrate her 36th anniversary but ends up dead. The tricky part is that she relives her death over and over again in an eternal loop to find out what is happening to her.
But she is not alone. Someone else is going through the same mess.
This is a loop worth watching high.
Are you ready for your trip?
All you need is to pack a joint and grab some snacks. Time to get comfortable on your couch, it's going to be a trip.