Invisalign is a welcomed alternative to metal braces. They're used to straighten teeth. Many people prefer using Invisalign to braces because they're more discreet, and there are fewer rules about what you can and cannot eat. They're supposed to be more convenient than braces. Even so, they have their own set of rules to ensure better results. And if you're a stoner, you may have been too scared to ask your dentist if you can smoke weed while straightening your teeth with Invisalign. So, can you smoke weed with Invisalign? Here's what we know.
Photo: Unsplash
Can You Smoke Weed With Invisalign Retainers?
You shouldn't smoke weed or vape with your Invisalign retainers in. According to West 85th Dental, smoking weed with your retainers in can cause discoloration. They also mention that the stain can happen quickly.
Artistic Expressions Dentistry also says that your Invisalign retainers shouldn't be worn when smoking. They were explicitly talking about cigarettes. However, since weed and cigarette smoke have similar compounds, it may apply to weed smoke too.
Artistic Expressions Dentistry says harmful chemicals from the smoke can get trapped between the Invisalign and the teeth. This may cause:
Tooth decay
Discoloration
Other dental complications
Therefore, if you want to smoke weed, take out your Invisalign retainers. But, before you put them back in, brush your teeth. This may be hard to remember so asking someone to remind you or putting a reminder on your phone may help. In addition to that, you can opt for other ways of using weed such as having an edible.
But if you're a heavy smoker, Artistic Expressions Dentistry says you can ask about other treatment options.
Can Using Weed Affect My Invisalign Treatment in Other Ways?
The next thing you may be wondering is if smoking weed could possibly affect your treatement.
Well, if you're constantly taking out your retainers to smoke and they're not in for the recommended time then yes that could be a problem. Artistic Expressions Dentistry says that your retainers should be in at least 20-22 hours each day.
Artistic Expressions Dentistry suggests combining activities to reduce the amount of time you're not wearing your Invisalign. They said, "Try to smoke at meal times, so that aligners do not need to be removed excessively."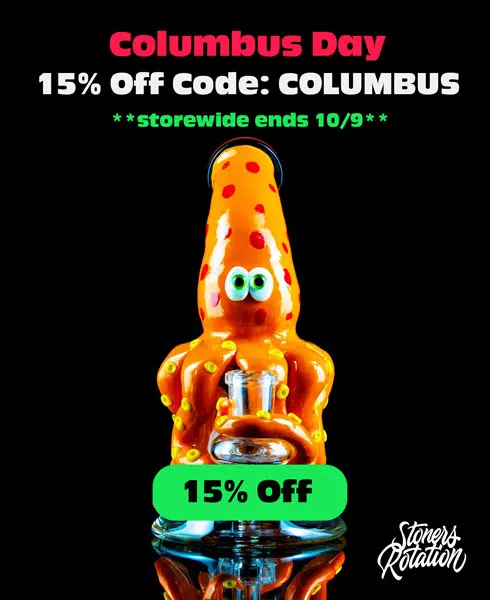 Another problem that may come up is the munchies. If you smoke weed and then spend a lot of time eating after, you may have your Invisalign out for longer than what's recommended. Using weed within your recommended meal period could help with this. But generally, snacking is not encouraged with Invisalign use because of the time you'd have to remove the retainers to eat.
If your Invisalign retainers aren't in for the specified time, that could cause an extension of treatment or even mean starting over.
Claregate Dental says, "If you've gone for long periods without wearing them, you might even need a new scan and a new set of aligners. Don't leave it too long before seeing your dentist as you could need to start your treatment from scratch."
Taking Care of Your Teeth As a Stoner
Did you know that smoking weed can negatively affect your teeth? You may experience dry mouth, tooth decay and gum disease. Of course, some studies see a link between smoking weed and some oral problems while others don't. Interestingly, dentists can often tell if you smoke weed or not.
If you have Invisalign, you'll want to take extra care of your teeth so that your treatment goes smoothly and you can avoid dental problems.
So far, we've established removing your retainers when smoking and eating. In addition to that, you should not only brush your teeth, but clean your Invisalign twice a day. 33 Smile
says, "After every meal, try to brush your teeth or, at the very least, rinse them thoroughly with water if a better option isn't available."
In addition to that, both smoking and Invisalign retainers can cause bad breath separately. You can minimize that risk by flossing, using mouthwash and of course brushing your teeth.
Other tips to consider are:
Eat less sugary foods to reduce tooth decay
See your dentist regularly which is typically every 6 months
Minimize coffee drinking to prevent discoloration according to 33 Smile
Finally, don't be afraid to ask your dentist questions. They're there to help you have the smile you want and healthy teeth.
Conclusion
Can you smoke weed with Invisalign? Sure, just not when you have your retainers in. It's recommended that you remove your retainer before smoking anything. You just have to be careful about how long you leave out your retainer. Your retainers should be in your mouth for the quickest and best results, at least 20-22 hours each day. If you remove your retainer to smoke, indulge your munchie cravings, and for other meals, you may have them out longer than the recommended time. That could lead to a longer treatment time. You could also explore other treatment options if you don't want to give up smoking so frequently.
Do you have more burning questions around cannabis?
Email us at [email protected] with your questions/topic suggestions and we will get back to you!