Best Weed Themed Dog Toys
There's nothing like smoking bud with your best bud who is a french bulldog named Doobie. Whether you want to get your bud something for his barkday or simply because you love to see how he lights up, this list of dog themed weed toys will have you laughing every time he plays with it.
Photo: Unsplash
Bong Dog Toy
This bong dog toy measuring 9.5 inches is made of soft plush, has a durable inner mesh and squeaker inside so your best bud will be entertained for hours. Just make sure he doesn't take too fat of a rip from this bong! Since it's plush, it's not for particularly aggressive chewers.
Paw Doobie Dog Toy
This Paw Doobie will get your dog going crazy! Although this toy includes double stitching and inner mesh it's best for light chewers unless you're just doing a photoshoot that ends with a celebration of stuffing everywhere. The good thing is that it's machine wash safe so you can rest easy if it gets too slobbery.
Joint Dog Toy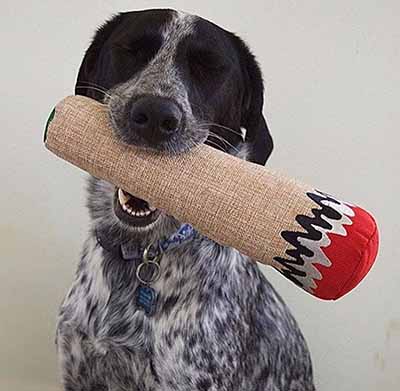 This joint dog toy made from natural hemp is extremely durable with seams folded twice for extra reinforcement. Hemp is one of the strongest natural fibers and even has antibacterial properties so it will stay clean for significantly longer than most dog toys. You'll be laughing for days as your dog carries it around the house, hanging from the side of his mouth.
Pipe Dog Toy
This pipe will be love at first squeak for your pooch. It makes a crinkly noise that your dog won't be able to get enough of. It is the perfect gag gift or barkday gift for your best bud.
Bag of Weed Themed Dog Toy
This OG Kush dog toy will serve as a good reminder to always have a few grams stashed away, especially when your bud starts to gnaw at (it squeaks). The toy measures 4 x 8 inches so it's perfect for dogs large and small and especially teething puppies. It even has crinkle paper inside so it makes that crinkly noise dogs love. Oh, and of course it's sniff proof. 
Emoji Weed Themed Dog Toy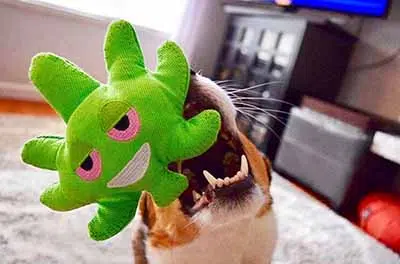 This hilarious weed emoji hemp dog toy is as funny as it is durable. Made from natural hemp, it can handle a Pitbull's bite. It's ideal for small to medium size puppers.
Blunt Dog Toy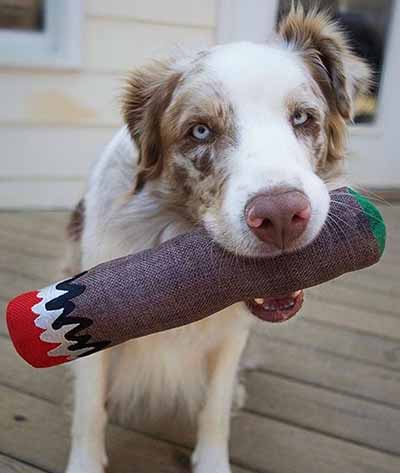 Also made of hemp, this blunt dog toy can handle relatively heavy chewers. It includes a duck squeaker for endless fun. Just say ruff ruff pass and he'll know what to do!
Munchies Pizza Dog Toy
There's nothing like a pizza when the munchies hit. This 7 inch slice of pizza plushie will come in very handy to keep your best bud entertained while you chow down.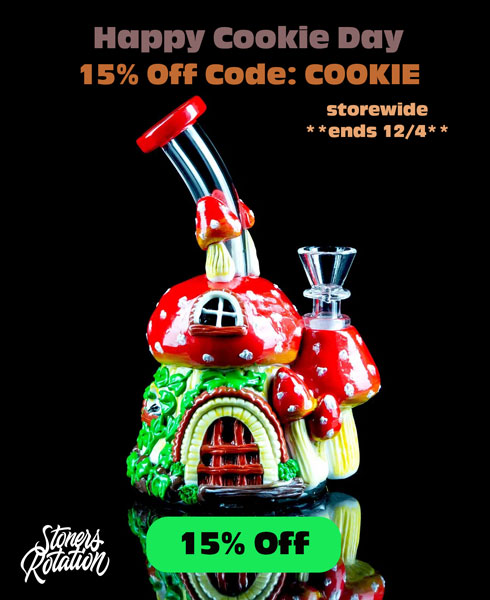 Best Bud for your Best Bud
Your bud will go head over paw for these weed dog toys. Just watch how he lights up every time he plays with it. However, if you tend to blow smoke in your puppers' face or hotbox with him in the room on the regular, you may be wondering if weed is actually bad for dogs. We'll take you through some of the side effects if you notice that your dog is acting funny.