There's nothing better than getting sucked into a new series while lighting up a bowl. To help you pick a show that fits the vibe, we've compiled a list of 10 of the best trippy shows on Netflix in 2023.
Photo: Unsplash
Top 10 Trippy Netflix Shows Now
Blown Away
This might seem a little off-center, but believe me glassblowing is a mesmerizing thing to watch while stoned. Blown Away is a competition centering around glass artists on the top of their game, tasked with creating innovative, highly skilled new designs. It's basically the premise of Top Chef but with glass art – and even hotter ovens.
Absurd Planet
Nature documentaries are always a good call if you want fascinating, mind-blowing and relaxing all in one. But Netflix's trippy show Absurd Planet is an even more perfect choice for stoner nights, mixing absurdist humor with stunning nature visuals, and peppered with genuinely enthralling facts. You want educational, funny and entertaining? This trippy TV show on Netflix is for you.
Floor Is Lava
Reality game shows never fail to be entertaining. But this one takes things to the next level, transforming home interiors into tumultuous obstacle courses contestants have to conquer to be in the running for a cash prize. With plenty of quirky characters and a medley of awesome sets, Floor Is Lava is a great trippy Netflix show to binge while high.
The Mind, Explained
This one will take you on several deep explorations into the psyche. A 10-part docuseries narrated by none other than red-headed Hollywood darlings Emma Stone and Julianne Moore, The Mind Explained delves into musings of the consciousness as told by psychologists, doctors and other experts who don't hold back on unpacking the mysteries of our most complex organ.
Nailed It!
If you've ever watched The Great British Bake Off and wished it had more chaos and underrated mediocrity, Nailed It! is the show for you. The premise shouldn't make for such entertaining TV, but it does. A team of average-to-terrible home bakers are brought in as contestants to try and create a host of baked treats only professionals could master. And we're invited to watch as they continuously concoct trainwreck desserts. Hosted by Nicole Byer and the chocolatier Jacques Torres, you will find yourself in fits of giggle watching the camaraderie and the epic fails.
Maniac
Slightly heavier in tone, but still great for stoners that like a challenging, intellectual watch while high, Maniac tells the compelling story of two unlikely friends that meet taking part in an interdimensional drug trial. Emma Stone and Jonah Hill deliver career high performances as the lost and lonely participants, each with their own unique motivations for taking part in the trial. If you like Black Mirror, give this trippy Netflix show a try.
Cooked With Cannabis
A classic of modern-day stoner TV, you've probably already heard of this legendary trippy Netflix show. Hosted by "Milkshake" singer Kelis on a new career path as a chef, Cooked With Cannabis takes edibles to another level featuring gourmet, Michelin star level marijuana cooking. In each episode, 3 chefs compete for a cash prize by creating novel weed recipes and serving them to celebrity guest judges. If you like to have your taste buds tantalized while high, this trippy Netflix series is for you.
The Midnight Gospel
If you're looking for trippy animated shows on Netflix, this one should be top of your list. From Adventure TIme creator Pendleton Ward, The Midnight Gospel takes the viewer on an equally trippy journey through surrealism. Broaching the topics of love, consciousness and loss, this series follows a space-caster as he hops through different worlds inside his multiverse simulator and reflects on the meaning of life.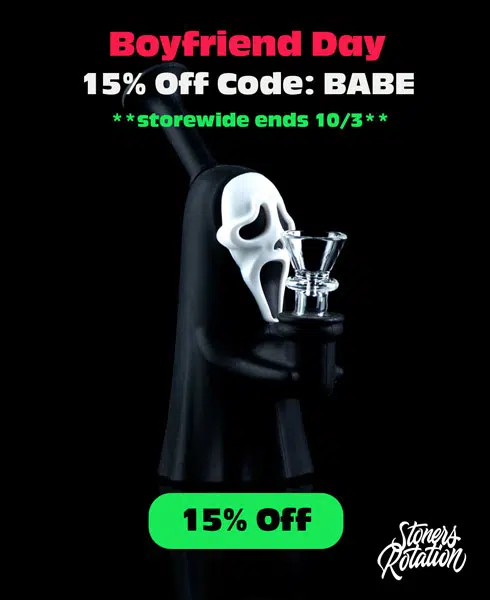 Russian Doll
Written by Orange is the New Black's Natasha Lyonne, this trippy Netflix show is possibly one of the best series the streaming platform has ever commissioned. Season 1 follows Lyonne's character, Nadia, as she finds herself in an endless loop of meeting death and being reincarnated back at her 36th birthday – and only true friendship can break the cycle. Season 2, meanwhile, takes viewers on a different journey, as Nadia travels back in time to embody her mother.
Sense8
This tragically underrated trippy Netflix show from The Wachowskis was sadly canceled after just two seasons – but there's still enough episodes to last you a few binging sessions. The show follows 8 different people who become psychologically linked and can tap into each other's skills and knowledge at whim. With exploration of conspiracies, it will captivate the stoner mind and its sheer originality will have you coming back for more.
Trippy Shows on Netflix: Bonus Picks
For a few more ideas for trippy TV shows on Netflix, check out the titles below.
Dark
Love, Death and Robots
David Attenborough: A Life on Our Planet
More Trippy Shows to watch on Netflix
If you're more in the mood for films than a series, be sure to check out our picks from our previous Top 10 Stoner Movies on Netflix while you're here.
Do you have more burning questions around cannabis?
Email us at [email protected] with your questions/topic suggestions and we will get back to you!