Have you ever wondered what the feeling of pure bliss and relaxation tastes like? If you're looking for a smooth smoke with amazing flavor, then the Lemon Cherry Gelato strain is for you! A refreshing taste followed by a soothing high, this strain is perfect for anyone looking to kick back, relax, and enjoy a night in after a long day.
The unique terpene content of Lemon Cherry Gelato provides a sweet and sour combination of cherries and lemon. It's a simple cannabis strain full of rich flavors.
Photo: Pixabay
What is Lemon Cherry Gelato?
Lemon Cherry Gelato is a newfound cannabis strain with a citrusy fresh flavor and a soothing, sedative high. Considering its famous lineage and high THC content, Lemon Cherry Gelato is not for novice smokers.
It's an ideal strain if you're looking for a way to unwind and relax at night. However, this new cannabis strain may be hard to come by. When you do get your hands on some, get ready to cozy up on the couch, grab your favorite munchies and enjoy a rush of pure bliss with each puff.
Lemon Cherry Gelato Strain Info
Lemon Cherry Gelato is a hybrid strain with a sweet ratio of 60% indica and 40% sativa. This newly popular strain has a reputable lineage. A cross between the famous Girl Scout Cookies strain, Sunset Sherbert, and an unknown strain makeup this hybrid. Lemon Cherry Gelato is an indica dominant hybrid with an insanely high range of THC levels. Averaging at 25% THC, some yields can reach up to 33%.
Thanks to its acclaimed parental lineage, the Lemon Cherry Gelato strain is full of deliciously potent cannabinoids and terpenes.
Appearance, Taste, and Aroma of Lemon Cherry Gelato
As the name suggests, the overall aromatic flavor profile of this strain is bursting with sour lemons and rich cherries.
The buds of the Lemon Cherry Gelato strain are large and dense with different hues of green. Around the bud, small orange pistils decorate on top of a thick layer of crystal trichomes. The dominant terpene limonene is tasted on each inhale.
If the name of this strain isn't enough to explain its flavor, then the distinct aroma of the bud will be. A refreshing smell of sour citrus with earthy pine undertones will fill the air. After smoking, a tropical burst of cherries and berries lingers in your mouth. Considering the combination of lemons and cherries, the Lemon Cherry Gelato strain is the perfect balance between sweet and sour.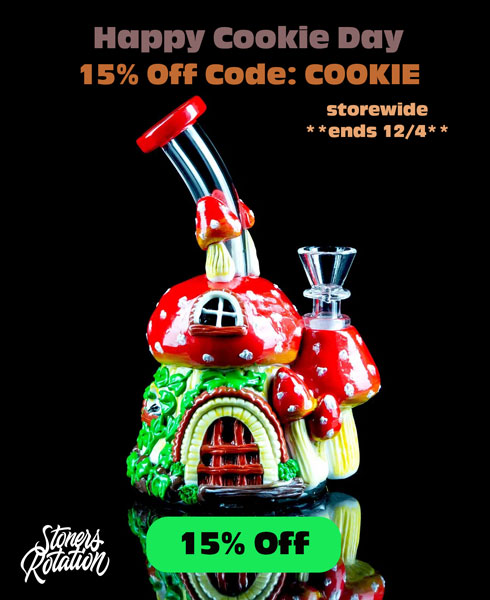 The citrusy flavors of Lemon Cherry Gelato match the blissful high that will make smokers feel a wave of tranquility.
Effects of Lemon Cherry Gelato
Considering this an indica dominant hybrid, Lemon Cherry Gelato is the ideal strain to end a long and stressful day or to simply ease pain and worries. Upon inhaling its sweet and sour smoke from your glass bong, those enjoying Lemon Cherry Gelato will feel a boost of happiness that will quickly have any stress or worries melted away. With those negative racing thoughts gone, a stoned feeling will kick in as the entire body is relaxed and full of heady bliss. 
While the high transitions from a wave of pure bliss to a deep sense of relaxation, any stress or pain throughout the body and mind are soothed. This makes it ideal for medical patients searching for relief from chronic pain, muscle spasms, and especially depression and anxiety.
However, as a potent indica dominant hybrid, it is recommended to smoke Lemon Cherry Gelato towards the end of the evening.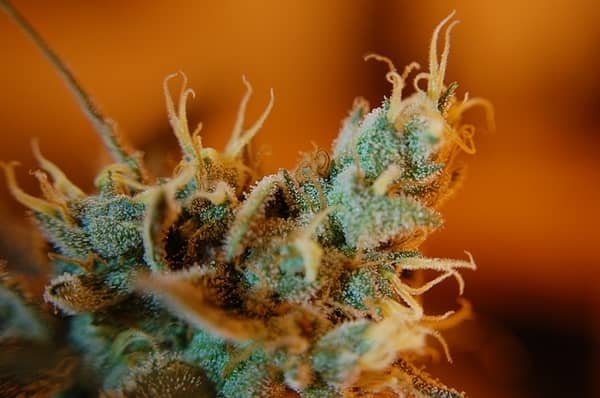 How To Smoke Lemon Cherry Gelato
This strain is strong in THC levels, even experts should consider starting in small doses. Those who have tried Lemon Cherry Gelato recommend smoking in a nicely rolled joint or favorite piece. Since this strain is fairly exclusive to the legal cannabis market, it may be more difficult to find edibles, tinctures, or concentrates.
It's also a simple strain to grow and you can purchase seeds through shops online.
Growing Lemon Cherry Gelato
Lemon Cherry Gelato is a great strain to grow either indoors or outdoors, depending on your preferred technique. Whichever cannabis grow method you choose, growing Lemon Cherry Gelato is fairly easy.
Lemon Cherry Gelato is ready to harvest by when resinous, dense buds start secreting a powerfully citrus aroma. This strain grows thick and bushy as a plant, reaching around 60-80 inches.
Lemon Cherry Gelato Yield and Flowering Time
When growing a Lemon Cherry Gelato cannabis strain, an indoor grow will yield 2-3 ounces of bud and an outdoor grow will yield about 1-2 ounces. The overall harvest time is 64 days, with a flowering time ranging from around 57-62 days.
Lemon Cherry Gelato Strain Review
Lemon Cherry Gelato is the blissful break we need after an exhausting or stressful day. The smooth and sweet smoke of the Lemon Cherry Gelato strain is full of refreshing flavors of cherry and lemon. A few hits of this strain and you'll be sent to a hazy cloud where all of your troubles melt away. Those who are lucky enough to enjoy this delicious strain are in for a soothing, blissful time!