Thanks to weed lovers and glass blowers everywhere, there are countless dab rigs for stoners to choose from while shopping. Portable dab rigs are truly the best option for any stoner who wants to take their concentrates on the go. You can easily stash these in your bag and dab with ease and style anywhere you go. Finding the best portable dab rig for you will make any adventure much more fun and trippy.
Photo: Stoner's Rotation
1. Cute Mini Dab Rig
Nothing is quite as portable as this 3.3 inch mini dab rig. Not only is it super cute in look and size, but it comes in several colors – teal, purple, yellow, and clear. The rounded glass gives the rig a cute look and won't dig into or clash with anything in your bag when you carry it with you.
2. No Face Silicone Dab Rig
This portable dab rig was made for anime lovers! Designed like No Face from Spirited Away, any dab will definitely have your spirit floating away with each hit from this rig. Also, thanks to the silicone material, you won't have to worry about this piece breaking while traveling with it. It's definitely worth a buy for both its look and function.
3. Quartz Mini Dab Rig
This mini dab rig is very portable, as the downstem and nail are built into the entire system. Made entirely of quartz, you can be sure of its quality. Every hit will be smooth and the beautiful glass is easy to clean. Out of all of the portable dab rigs, this one is definitely the best for minimalists or any stoner who wants a consolidated piece to take with them.
4. Iridescent Cake Dab Rig
The sturdy, tiered shape of this rig is what makes it so portable and easy to carry. There's a puck-shaped percolator that creates smooth dabs every time, as well as a condensed neck to deliver the best flavors from each rip. Not only can you choose from iridescent blue or rainbow, but at 8 inches tall it's a great staple to bring anywhere for hefty dabs.
5. Tie Dye Silicone Dab Rig
This silicone dab rig is a very special piece that's perfect for true adventurers. There's no need to worry about this rig breaking easily like glass does, thanks to the thick, food-grade silicone that hits like a champion. Even better, the tie-dye design embodies the stoner aesthetic. The streaky tie dye appearance comes in both warm and cool colored varieties and stands tall at 8 inches.
6. Purple Recycler Dab Rig
This beautiful dab rig comes in a perfect lavender shade. It hits even better than it looks thanks to the two recycler arms which filter concentrate vapor. Also, the hourglass shape will help keep this rig sturdy while traveling. With its ethereal and swirly look, it's truly a great on-the-go item for any creative stoner.
7. Mushroom Dab Rig House
All your fairytale dreams can come true with this super cute mushroom dab rig. It's shaped like a small mushroom house and flares out towards the base for optimal sturdiness. At 7 inches tall, this rig can fit in your bag so you can share its charm with anyone you meet on the go. With this sculptural beauty, it'll be hard not to smile every time you take a dab.
8. Glow In the Dark Monster Dab Rig
You can't go wrong with this spooky dab rig. It's made from thick, quality glass and covered with a sculpted fanged squid monster. Even better, it glows in the glass and is perfectly shaped to be portable. There's no sharp, protruding edges that easily break, making this dab rig both a functional and beautiful item.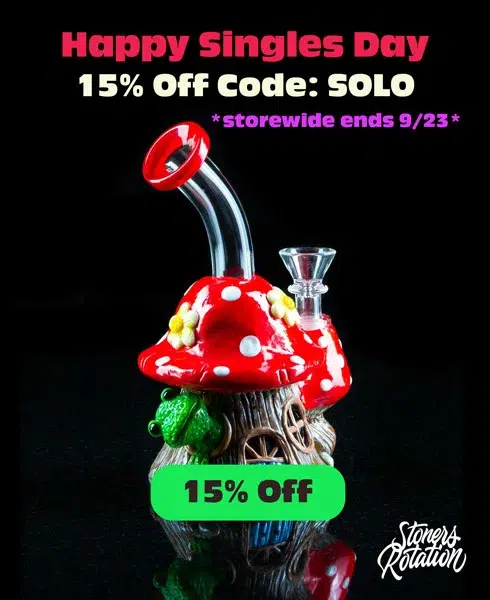 9. Stacked Mini Dab Rig
When it comes to portability, the more miniature, the better. This 5.5 inch small portable dab rig will keep the high going while eliminating the hassle of carrying around. The thick glass makes for a great hit, while the thick base ensures sturdiness during every dab session. Even better, you can choose from four different colors – blue, orange, black, and teal.
10. Mushroom Cottage Dab Rig
With this cozy rig, you'll be daydreaming about cottage life while enjoying a great high. It's shaped like a mushroom cabin and is a great size for bringing with you on any adventure. Whether relaxing outdoors or relaxing at home, with this dab rig you can enjoy smooth dabs while enjoying its whimsical design and cool red accents.
Living the Mobile Dab Rig Life
At the end of the day, portable dab rigs are defined by whether they are small, conveniently shaped, or made of sturdy material silicone. As long as you know how to use a small portable dab rig, then you're ready to dab on the go! It's always exciting to find a glass design that fits your style, and these portable dab rigs are some of the most unique and well-priced out there.
Do you have more burning questions around cannabis?
Email us at [email protected] with your questions/topic suggestions and we will get back to you!