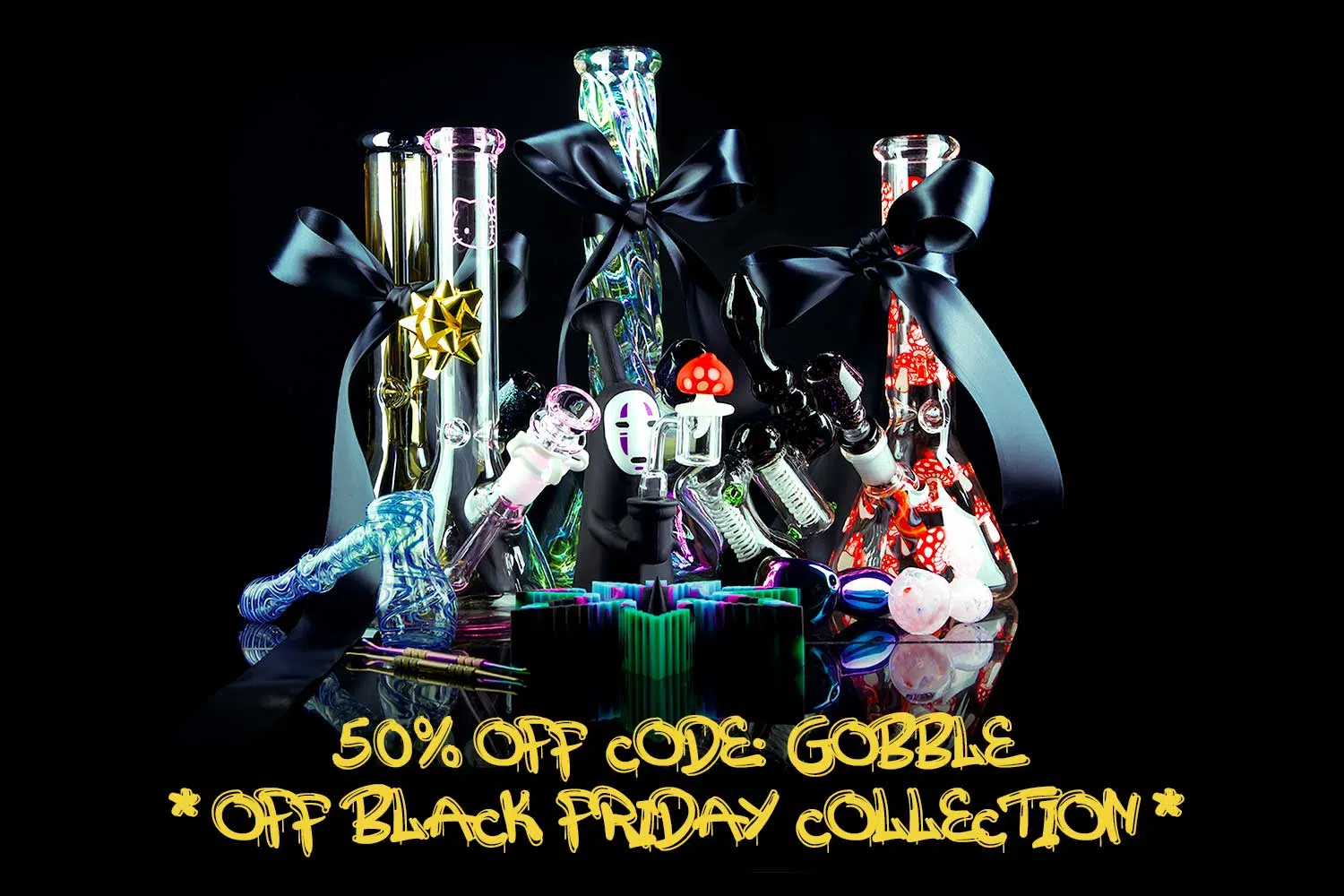 Black Friday Save the Date
From Black Friday through Cyber Monday we're offering 50% off select items within our store. The biggest discounts will start on the day of the event November 25th from 12am CT through midnight Cyber Monday November 28th. The new code will be released on our homepage and Black Friday bongs sale page.
Danksgiving
Black Friday. It's the day we've all been waiting for. That is, after Thanksgiving. Thanksgiving, of course, is the day when you eat to your heart's desire. Where napping is the only solution to the inevitable self induced food coma of stuffing, mashed potatoes and pie.
Smokey Black Friday
What follows is the madness that is Black Friday. Perhaps you've been holding out on your next big purchase for this very moment. You've been patient but now it's time to pull the trigger.
Naturally, there's something about the hunt for the best deals that's particularly exhilarating. And that's no different when buying a bong.
But what better than skipping the crowds and perusing Black Friday deals from the comfort of your couch. Perhaps even after a few bong hits?
Black Friday Bongs Sale
In celebration of Black Friday, our online headshop is offering up to 50% off on select bongs, dab rigs and smoking accessories. While the original meaning of Black Friday is all but lost, to us, it's a day that should be filled with dank clouds and deliciously dope deals for the savvy stoner who knows that patience is one of the highest virtues.
Here are a few of our top picks:
Trippy Rick and Morty Bong – This small ice bong with its glow-in-the-dark print of Rick, Morty and Mr. Meeseeks is the perfect addition to your collection of RnM gear. It's unique, trippy and delivers silky smooth that will land you on cloud nine, or another dimension altogether.
Monster Bong – This hyperrealistic monster bong features fangs, glowing cat eyes and a big beady cyclops eye that will be sure to trip you out, especially after a few hits.
Mr. Frog Bong – And while creepy-cute is as hot as a hot pocket when high (literally, metaphorically and metaphysically speaking) perhaps you're looking more for a friendly face. Fortunately, this mushroom bong is the home of Mr. Frog, the cute toad figurine whose smile is contagious, even laughter inducing.
The heart wants what it wants. And these Black Friday bongs will be sure to get you higher by letting you spend more on what truly matters, the green goddess herself.
Bong guides & smoke tricks