The White Truffle strain is super exotic and has become the ultimate dream weed for cannabis connoisseurs. This White Truffle strain review covers what to expect from this rare delicacy, including its stunning appearance, head-hitting effects, and skunky-like flavor with buttery undertones.
Photo: Haxlinlegend19 seedfinder.eu | CC BY-NC-SA
What's the White Truffle strain?
White Truffle weed strain is the phenotype of Gorilla butter, a cross of Peanut Butter Breath and Gorilla Glue #4 ( GG4).
Fresh Coast Genetics, a small breeder in Michigan, created this mystical strain, but BeLeaf, an Oklahoma-based cultivator, popularized it.
Over the years, White Truffle has become a popular strain mainly due to its delicious taste and ability to deliver an excellent high.
Is White Truffle indica or sativa?
White Truffle strain is an Indica-dominant hybrid with 70% indica and 30% sativa. Thus, the effects are more relaxing and the body high. However, you'll also experience an energizing mind buzz, a famous trait of sativa.
How does White Truffle look and taste like?
White Truffle weed strain has a visually stunning appearance. It has tiny, popcorn-shaped buds that have a deep purple hue. The nugs are covered by frosty white trichomes, adding appeal to the overall appearance.
You'll notice orange or dark brown pistils at a closer glimpse, creating a beautiful contrast against the purple-hued buds. The purple-splotched buds are very nice to look at, and you may spend a few minutes admiring them before rolling a joint.
When it comes to flavor, the White Truffle will deliver a unique experience. When you first taste this strain, you'll experience herbal and earthy notes that may remind you of mushrooms and garlic. You'll also enjoy sweet undertones. These savory blends create a complex and fascinating experience for cannabis consumers looking for something different.
The aroma follows the same profile as the flavor. It has an earthy smell that blends harmoniously with lemon undertones and a faint hint of pepper. Also, you can catch a note of diesel fuel on the exhale.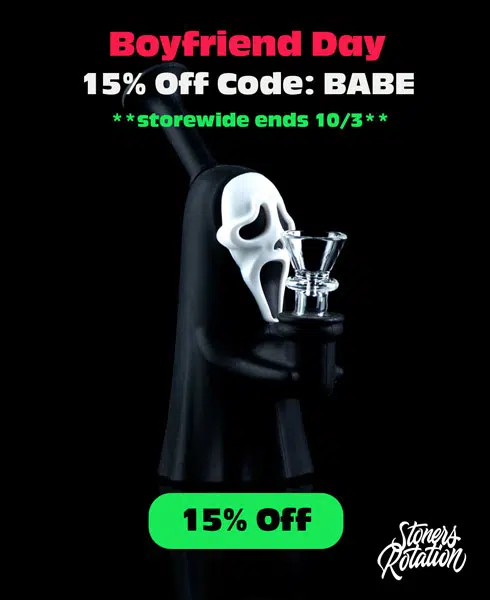 White Truffle THC content and terpene profile
White Truffle is one of the most potent strains you can consume today. On average, the White Truffle strain packs an impressive 25% THC. For this reason, it's essential to practice caution when consuming this strain; otherwise, you risk experiencing side effects such as cottonmouth, paranoia, and dry eyes.
Notably, White Truffle has a low CBD content of just 1%. CBD is a non-psychoactive compound that may potentially manage health issues such as insomnia, anxiety, chronic pain, and more.
This rare yet popular strain has a unique terpene profile. The dominant terpene is Caryophyllene, responsible for the pepper notes in White Truffle. Also present in high amounts is limonene and humulene.
This terpene blend results in a mix of earthy, skink, and spicy notes with a distant hint of nuttiness.
White Truffle strain effects
As mentioned above, this is an Indica-leaning strain. Hence, expect it to hit your body more. When you first consume White Truffle, you'll experience a powerful euphoria characterized by an uplifting high. You'll also enjoy increased creativity, happiness, and mental clarity, making it ideal if you want to unleash your artistic side.
Then, you'll slowly drift into a relaxing and calming body high, which has made this strain popular. This blissful state allows you to unwind without experiencing couch-like effects.
White Truffle can be ideal for managing chronic pain, anxiety, insomnia, and more, as it gives the best of both worlds.
How to consume White Truffle weed strain
Are you looking for a direct and potent experience? You can use bongs and dab rigs to enjoy the full potency of White Truffle. Alternatively, you can infuse the strain into your favorite beverage and enjoy its long-lasting effects.
Regardless of the method you choose, It's crucial to consume responsibly. If you're a novice, it's advisable to start small, and you may increase the intake once you get the hang of its effects.
Getting White Truffle strain seeds
Direct sowing of White Truffle seeds is one of the popular ways to grow this strain. However, getting quality seeds can be daunting, considering the rarity of this strain. You can visit reputable breeders in your area to source the seeds and learn more about how to grow and take care of your crop, or purchase online.
The strain can do well in both indoor and outdoor environments. However, it's crucial to follow the set guidelines when growing cannabis to avoid related fines and penalties.
Rare White Truffle weed strain
White Truffle is a rare strain that's known for its high potency and relaxing effects. Next time you come across this delicacy, consider trying it and enjoy its unique aroma and effects.
Do you have more burning questions around cannabis?
Email us at [email protected] with your questions/topic suggestions and we will get back to you!